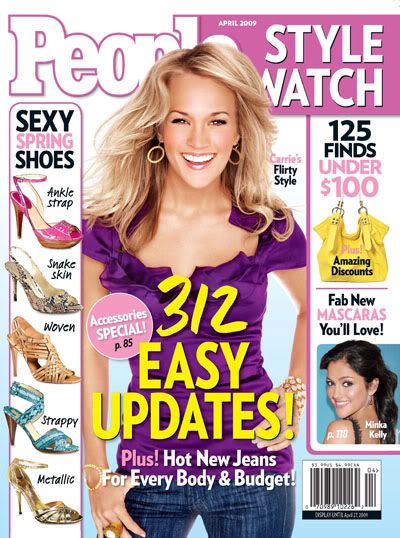 The emails have been pouring in…
Hi! I'm looking for the purple top Carrie Underwood is wearing on the April People Style Watch…my search keeps leading to this site! I hope you can help! ~ Sandy
Hi there! I'm trying to find out who makes the purple blouse Carrie Underwood is wearing on the April 2009 cover of People Style Watch Magazine (the designer is not listed in the mag). Can you help? Thanks! ~Kirsten
I haven't found the exact match (yet, still working on it), but this Bluesketch Purple Smocked Satin Cap Sleeve Top (shown left, search 0766 to see) is very, very similar, and is only $20.99 from DHStyles.com!
For a similiar alternative, check out Alloy's Sari Smocked Top, $26.50 from Alloy.com
If anyone knows the exact designer, please comment!  Thanks.
And if you don't subscribe to People StyleWatch magazine yet, what are you waiting?!  Order through Amazon.com for only $19.90 a year (50% off the cover price).