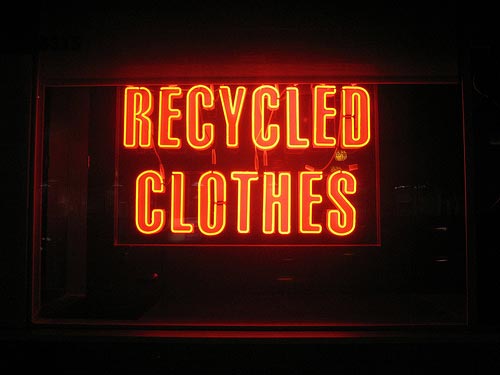 Recycling fashion clothes can save you money by taking the clothes you no longer wear and turning them into a fashion statement. This means you don't have to go out and buy new clothes, which can add up to being costly.
If you have an old t-shirt that is worn out beyond repair does not mean it has to be tossed in the trash. There is always a use for old, worn-out piece of clothing. It doesn't matter if it is torn or has buttons missing either, as it can always cuts up and used as patches, or even something as fun as a bracelet.
Many non-for-profit organizations such as Goodwill or the Salvation Army play a large role in recycling worn out clothes. When an organization receives clothing that is in such poor shape that they can't sell in one of their stores, the items are sent to a rag sorter, which recycles fabric pieces. These get sold to poor countries overseas which are used for material, rags, and polishing clothes.
Of course, with a needle and thread or a sewing machine, you can create your own fashion masterpiece. You can take old and worn out articles of clothing and make them into items such as handbags or quilts. You can even add tie-dye to a white shirt to make it look new again. You can also add patches to places that may be torn in a pair of jeans. Adding buttons and beads to an old shirt can give it life again. If you have pets at home, worn out shirts make great pet bedding.
There are so many things you can do as far as recycling fashion clothes. All it takes it a little time along with some creativity and you can turn an old, worn out shirt or jeans into a whole new outfit. Then, within a short amount of time you will have an outfit, which no one will be able to tell was on its leg last just a few hours ago.
As well as recycling clothes, musicMagpie lets you exchange DVDs, CDs and games for cash. For more info, check out www.musicmagpie.com.