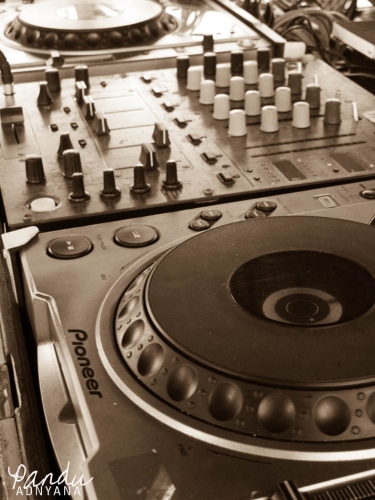 Electronic dance music (EDM) is storming the charts of late. And even if you aren't familiar with many of the DJs who rock the beats on the international club scene, you've likely heard their work or at least their influence in some of your favorite songs of the last year…well, unless you only listen to Taylor Swift. In any case, it seems that 2012 can be dubbed the year of the DJ, and if you want to up your game when it comes to knowledge of the hottest and best-dressed spinners, here are a few you should definitely check out (all can be found on the new MySpace).
Deadmau5. My, what big ears you have. Even people who aren't wise to the dubstep scene have heard of this popular DJ, whose signature mouse mask has become iconic, even beyond the night clubs he frequents. And if you didn't know how who he is, just check out the cover of Rolling Stone from July of this year. Despite his morbid beginnings (he reportedly took his name from a dead mouse he found inside his computer), this is one DJ to keep an eye on. His skate punk style consists mainly of Vans, jeans, and anti-social tees, but he goes all out on his gigantic mouse-head masks, which come in several colors with all kinds of designs (much like a goalie helmet in hockey, only cooler). And his music is pretty awesome, as well, following in the footsteps of techno and dubstep legends like The Chemical Brothers and Daft Punk.
Calvin Harris. If you think you don't know who this DJ is, refer to the 2012 VMAs, where he famously mixed mad beats from inside an abstract pyramid structure of metal and light. This Scot has released several albums of his own over the last few years (including the recent '18 Months', which got a somewhat tepid reception). However, he is probably better known for his collaborations with international pop stars like Rihanna, Kesha, Kylie Minogue, Florence Welch, and more. And with VMA wins this year for his own song, "Feel So Close" (Best Electronic Video) and his collaboration with Rihanna on "We Found Love" (Video of the Year), he's sure to become a household name. As a bonus, he may have single-handedly made the "member's only" jacket cool again. And the man can rock a serious pair of shades.
Skrillex. This Cali native has done all kinds of music, but he always finds a way to infuse a little electronica into the mix. And as a DJ he has a style all his own. He may be most recognizable for his unique hairstyle, which is long but shaved on one side (fans have started to replicate it in homage). But his Corey Feldman glasses, gauged ears, and industrial punk wardrobe (black tees, dark flannels, studs) help to give him his uber-underground look. And while his hyperkinetic musical style might be enough to give your parents a seizure, he is one of the most widely sought out DJs in the world.
Kaskade. EDM may be on the rise, but most DJs are still resigned to packing small clubs at best. Not so with Kaskade, who recently held a sellout concert at the L.A.'s Staples Center, home to both the Kings and the Lakers (and nearly 20,000 seats). And it's not hard to see why. Despite the use of standard synth beats, his music has crossover appeal thanks to slow melodies and hypnotic undertones that convey a sort of romantic, dreamy quality. Plus, this dapper fellow ups the standard DJ attire with V-neck tees, striped sweaters, and popped-collar jackets.
DJ Tiesto. This popular DJ may not be as well known in America as some of his counterparts, but if his earnings are any indication, the Dutch-born spin-master isn't any the worse for it – he reportedly pulls in $22 million a year. Between frenetic beats and soaring, anthemic melodies, this DJ is setting himself apart from the average vinyl monkey with DJ equipment hire stacks. And his fashion is nothing to sniff at, either. He's often seen sporting graphic skinny tees, but he switches it up with polos, oxfords, and even the occasional skintight leather jacket.