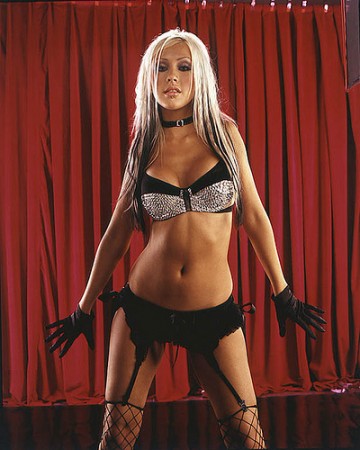 Okay, you don't even have to think about this one to cite Lady Gaga, but considering that shock value is part of her shtick, it hardly counts (even if it does involve dresses made of meat or Muppets). What we're talking about here is celebs who think that they're dressing well when they enter the public eye in booty shorts, shredded garments, or hair that looks like cotton candy. So here are just a few that have served as fodder for both the best- and worst-dressed columns with some of their crazy outfits.
Andre 3000. In the Victorian era, a man that dressed with the same boldness and flair that this rapper displays would have been known as a dandy (or as writer Thomas Carlyle put it, "a clothes-wearing man"). And Andre's wardrobe is dandy, indeed, giving him a style that has most often been described as "pimp". He has a penchant for plaid that is rivaled only by golfers and Scotsmen, although he often opts for candy-colored hues rather than subdued shades of traditional men's plaid. He's got more hats than a haberdasher and potentially more bowties than Gene Shalit. And in truth, most of his outfits tend to border on costume. It's no surprise then that the clothing line he designed, Benjamin Bixby, is rife with such oddities as rugby scarves, knickerbockers, and berets.
Xtina. Christina Aguilera is something of a style chameleon, and she has tried just about everything at this point, from golden-era Hollywood to hip-hop harlot to hooker chic (or not so chic – who could forget the frizzy 'fro from her Moulin Rouge phase?). Let's just say she's nothing if not daring when it comes to her wardrobe. The result, of course, is a hit-or-miss fashion sense that could have benefitted greatly from a guiding hand somewhere along the way (where is Rachel Zoe when you need her?).
Rihanna. This Barbados-born songstress has definitely displayed some doozies in public, mostly in the form of barely-there garments. Although she suffers from moments of total chicness, the majority of her outfits fall vastly short of what most would describe as good taste, with a spate of shirts that showcase her braless bosom and high-waisted booty shorts that are better suited for a Sir Mix-a-lot video. Oh, Rhi-Rhi…when will you realize that you don't have to give it all away to get some attention?
Katy Perry. From spark-spewing bras and blue-hued hair to a majorette costume complete with enormous epaulettes and a mustache on a stick, this California girl wears some pretty crazy outfits and accessories (how about the time she put then-boyfriend Russell Brand's face on her fingernails?). She'll even don funny t shirts (as evidenced by the revealing Elmo top she sported for laughs during her stint on SNL). Although the songbird's wardrobe may run hot and then cold, yes and then no, there's no denying that her girl-next-door appeal makes us love her, crazy clothing and all.
Nikki Minaj. This up-and-coming rapper/singer is a hard one to peg. Her clothing is completely off the map with leopard-print body suits (and matching wigs), bustiers that make her boobs look like a shelf for her face, and the red carpet Grammy snafu heard round the world (Virgin Mary-meets-Little Red Riding Hood, with a pope impersonator as an escort). But considering she's quickly becoming Lady Gaga's American style-counterpart, perhaps we should assume that her crazy is all for show.