Disclosure: This post may contain affiliate links, meaning we get a commission if you decide to make a purchase through our links, at no cost to you. Please read our disclosure for more info.
Last Updated on March 23, 2021 by Steal the Style
Insurance policies are very important for families in the case that the breadwinner of the family dies. For celebrities, insurance policies can be quite unusual and cover such things as hair, fingers, legs, voice, and even the buttocks. If you are wondering what the top 10 over the top celebrity insurance policies, then you are going to want to keep reading.
Legs – $1M
Jamie Lee Curtis starred in Halloween, Trading Places and A Fish Called Wanda was the actress also seen in the L'Eggs Pantyhose. The L'Eggs Pantyhose Company thought it was a great idea to have a policy on Ms Curtis legs so they took out the policy in 1994.
Hair – $1M
Head & Shoulders insured Troy Polamalu's, Pittsburgh Steeler of the National Football League, long flowing hair for $1M, as he was the face in their anti-dandruff shampoo commercials.
Middle Finger – $1.6M
Keith Richards, Rolling Stone guitarist took out his own insurance policy on his middle finger. He said the policy was to cover an injury to the finger that would make it unable for him to play; however, he was famous for using this finger in other gestures, so could knows for sure.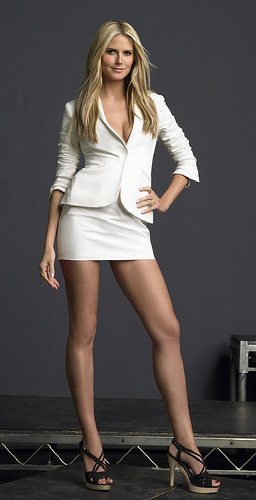 Legs – $2.2M
Heidi Klum known for being on the covers of Marie Claire, Elle, Vogue, and the Sports Illustrated Swimsuit Issue, has legs that are covered by $2.2 million. Her left leg is valued a bit less than the right as it has a very small scar.
Voice – $6M
Bruce Springsteen, an American songwriter, singer, and musician known that has released 12 studio albums, 70 singles, and has sold more than 65 million albums in the United States has an insurance policy covering his voice for $6 million through Lloyd's of London.
Teeth – $10M
America Ferrera, known for her role as Ugly Betty, has a smile worth $10 million through Lloyd's of London as part of a charity with Smiles for Success and Aquafresh White Trays.
Alien Abduction – $25M
Shirley MacLaine, known for her role in Terms of Endearment and Steel Magnolias to name a few has spiritual beliefs that take her to the beyond. She took out an insurance policy that would cover her in the case of alien abduction.
Buttocks – $27M
Jennifer Lopez, an American actress, dancer, and recording artist decided her most important body part is the one she sits on and in 2007 insured her bottom for $27 million.
Entire Body – $151M
David Beckham, soccer player with the Los Angles Galaxy that is also well known for playing with Preston North End, Milan, and Manchester United, had his entire body insured for $151 million in the case that an injury takes him out of the game permanently.
Legs – $1B
Mariah Carey, an American singer, songwriter, and actress famous for a variety of appearances including Gillette's Legs of a Goddess campaign. The company insured her legs for $1 billion.