Disclosure: This post may contain affiliate links, meaning we get a commission if you decide to make a purchase through our links, at no cost to you. Please read our disclosure for more info.
Last Updated on April 21, 2018 by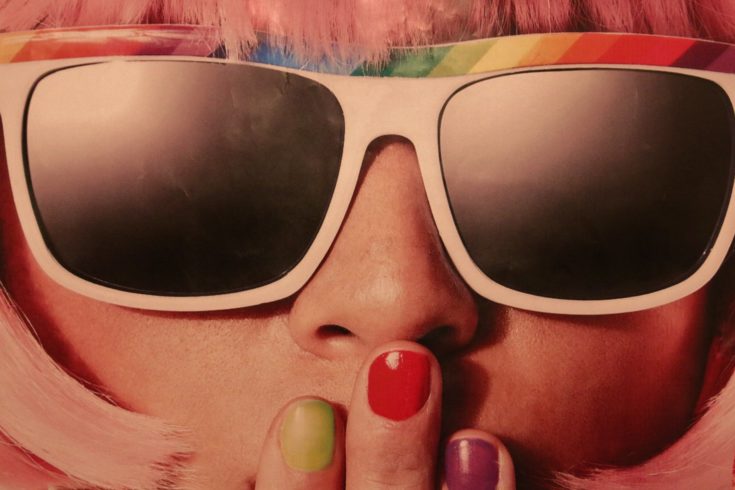 Your glasses may be the last thing you want to replace when it comes to wearing trendy fashions, especially since they can cost a lot more than the average top or pair of jeans. And yet, you don't want to let your eyewear look get too outdated. So if you've had the same frames for a few years at this point, or the ones you've got simply aren't working for you any more, here are a few timely trends that you might want to think of embracing when you recycle your old frames and look for some new specs or shades.
1. Bold wayfarers.
The '80s are back in a big way, as you've no doubt noticed if you pay attention to fashion trends. The leggings and legwarmers, crop tops and cutoffs, and layers of jewelry that permeated the "me" decade have resurfaced everywhere from runways to discount warehouses, and the eyewear arena is no exceptions where this trend from a bygone era is concerned. Children of the '80s will likely recall the hip wayfarers they wore as kids – you remember the ones with day-glo frames and paint splatter. These days the trend has received something of an update thanks to bold hues that pop any palette and add statement flair to your favorite ensembles.
[amazon_link asins='B01N20L3FL,B07325W84D' template='CopyOf-ProductGrid' store='stealthestylewp-20′ marketplace='US' link_id='96bbaad6-457d-11e8-b709-ed5d895c445b']
2. Retro shades.
Whether you're rocking that 1950s pinup look with a sleek and sophisticated pair of cat glasses or you've decided that John Lennon's round specs are too cool for school, you can get some amazing inspiration from timeless, classic trends of the past. What's interesting is that people who can take retro looks and update them in some way are often lauded as trendsetters, even though they've merely built upon foundations of the past. So if you want to get a unique look that's 100% you and modern shades just aren't cutting it, turn to the past and find a vintage pair of frames that speaks to you, and then make them your own with interesting lenses or the addition of some pin-striping, decals, or bejeweling, just for example.
[amazon_link asins='B0015S951Q,B0033Y1C98′ template='CopyOf-ProductGrid' store='stealthestylewp-20′ marketplace='US' link_id='a8358b52-457d-11e8-a315-fd73b3f19308′]
3. Translucent plastic.
Clear plastic frames seem to be the flavor of the year, and they come in all kinds of shapes, sizes, styles, and even colors. The trendiest looks lately seem to rely on an abstract blend of colors that turn your frames into a work of art. But while spring saw pastels and summer was rich with bright, bold splashes of color, the trends for fall and winter will likely be a bit more muted. If you want to get your ice-queen look going, opt for a pair that is frosty white or 100% clear.
[amazon_link asins='B01M8F940M,B073XRWZYN' template='CopyOf-ProductGrid' store='stealthestylewp-20′ marketplace='US' link_id='bb5f8ceb-457d-11e8-9286-d51a2aec847a']
4. Tortoiseshell.
This timeless trend never seems to go out of style, but if you want to make it work for you this year, you need to opt for the right style of frames. Horn rimmed glasses (the semi-rimless variety) seem to be topping the list where retro shades are concerned, and a tortoiseshell frame makes them a perfect pick as we head into fall. And you really can't go wrong with an oversized frame that features rounded lenses (a la Jackie O) or some wayfarers. Want to put your own spin on the trend? Opt for a green-tinted tortoiseshell instead of more classic tans and browns.
[amazon_link asins='B06Y46JHCG,B0772QJGMJ' template='CopyOf-ProductGrid' store='stealthestylewp-20′ marketplace='US' link_id='d828a11a-457d-11e8-8fd3-f1bcad6a2cc7′]
5. Eco eyewear.
Anything green is trendy these days, so if you want to up the ante when it comes to eco-friendly consumerism, seek out international eyewear brands that are using sustainable and biodegradable materials, engaging in green practices, and contributing to re-forestation and other environmental causes. A few trendsetting brands to consider are Eco, PLAYN, Proof Eyewear, and Stella McCartney, just to get started.
[amazon_link asins='B01INZRRPY,B003VQJHPO' template='CopyOf-ProductGrid' store='stealthestylewp-20′ marketplace='US' link_id='e85c1f59-457d-11e8-8ed2-4b876b949aed']