Disclosure: This post may contain affiliate links, meaning we get a commission if you decide to make a purchase through our links, at no cost to you. Please read our disclosure for more info.
Last Updated on December 28, 2020 by Steal the Style
DIY jewelry making can be fun for anyone and everyone, even people of all ages! Whether you're looking for jewelry craft ideas for someone younger or older, then you've come to the right place.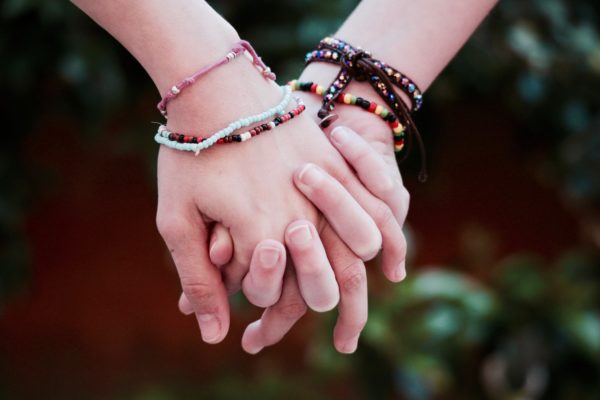 Making jewelry is something that you can do as a group activity where you can all sit around and do a jewelry craft. You'll find that there will be plenty of laughter and memories made when you make jewelry together.
On the other hand, you can also make DIY jewelry on your own! It's a fun activity if you're looking for something soothing to do while you're winding down after a long day. 
Keep reading for our guide on seven easy jewelry craft ideas for people of all ages. 
1. Leather Wrap Bracelet
One of our favorite easy jewelry making ideas is a leather wrap bracelet. This type of bracelet is easy to do but can be very unique depending on what materials you use. 
To make your very own DIY wrap bracelet you will need leather, beads of your choice, thread, and your choice of fastener for your bracelet. 
The thing about wrap bracelets is that there are lots of different techniques that you can use. It also depends on the type of beads that you choose to use as well! Watch some tutorials and see what will work best for you when making your own jewelry crafts.  
2. Glass Beads
Incorporating hand crafted glass beads into your DIY jewelry making can completely elevate an average design. There are tons of different types of glass beads, which means that you can make so many different designs when crafting your jewelry. 
Whether you want to start out with something basic or just use a bunch of small different glass beads to make something beautiful the choice is up to you. You could also include a large glass bead as the focal point of your jewelry design. 
Glass beads work for all ages and everyone will love seeing the finished product of your design. Since there are so many different beads to work with, everyone's DIY jewelry will look different and unique. 
3. Safety Pin Jewelry
Safety pins are something that most people already have laying around their house. Yet they're a great tool for jewelry making ideas. Safety pins can be silver or gold and the choice is up to you for your safety pin DIY jewelry. 
You can make necklaces, bracelets, earrings, anklets, or even rings out of safety pins! One way to do it is by having tons of small beads. You can have the same color or different ones of beads, or even put the beads together to create a pattern. 
Put the beads on each prong of the safety pin in whatever design you see fit. Then use thin elastic or thread to string them together.
Make sure to craft enough beaded safety pins for your choice of jewelry, whether you want a bracelet or necklace! Using small safety pins can work perfectly to create a ring for your finger that is adorable. 
4. Get Creative With Tassels
Making tassels is so simple, anyone can do it! The best part is that once you've made tons of tassels, they make the perfect accessory for your jewelry. All you will need is your color choice of embroidery floss to make the tassel!
Basically, you will just want to have a group of them strung together like a tassel and then tie another piece around the top to hold it together. Cut your tassel to the appropriate size and then you're all done!
It's easy to make tassels and they're perfect for jewelry! Making two tassels of the same size and length is perfect for a pair of earrings. You can even make a larger tassel the same color and put it on a necklace so that you have a matching set. 
Another fun way to spice up your tassel jewelry is by adding a stone or bead along with the tassel. It can make your jewelry seem a bit more elegant and fancy. 
Regardless of what you choose to do, tassels are the perfect accessory to any outfit. They're simple DIY jewelry to make and easy to wear! 
5. Friendship Bracelets
Friendship bracelets might have been something that you made when you were younger, meaning they're definitely DIY jewelry for all ages. These cute bracelets are totally making a comeback and can be styled with a cute outfit as well. 
All you really need to make a friendship bracelet is your choice of string, some time, and dedication. One tip is to start by taping your friendship bracelet to a surface in front of you so that it is easier to work! 
There are also a few different ways that you can go about making a friendship bracelet. Take a look at the different styles and techniques there are when braiding your friendship bracelet and find one that you love. 
If you make one long enough, you could even turn a friendship bracelet into a cute choker necklace. There are plenty of ways that you can wear this cute style of jewelry! If bracelets are not your thing, you can check out the chvker friendship necklace for your bestie.
6. Wire Jewelry
Working with wire is another one of our favorite jewelry making ideas! You can make tons of intriguing or unique designs out of wire that everyone will be sure to love. 
Whether you're making a wire necklace, bracelet, or ring, there are plenty of cute designs that you can do. 
A dainty ring out of wire is an easy craft that anyone will be able to do, as long as you have the right wire and right tools! 
You could also craft things out of wire and add them to a chain for a necklace or bracelet. A wire heart would look very cute on a necklace chain and would be a unique piece of jewelry. 
Jewelry Craft Ideas for Everyone
When making jewelry, there are tons of jewelry craft ideas that are perfect for all ages! The best part is that it can be a relaxing activity or one that you can do to laugh and have fun with tons of people. 
Making jewelry also means that you have something to remember your time by which is the jewelry that you've created together!
If you're looking for cute and fashionable ways to style your jewelry, then make sure to keep scrolling our page.