Disclosure: This post may contain affiliate links, meaning we get a commission if you decide to make a purchase through our links, at no cost to you. Please read our disclosure for more info.
Last Updated on September 1, 2020 by
Do you feel like your home looks like it's stuck in the 1970's? Then there is no time like the present to go modern.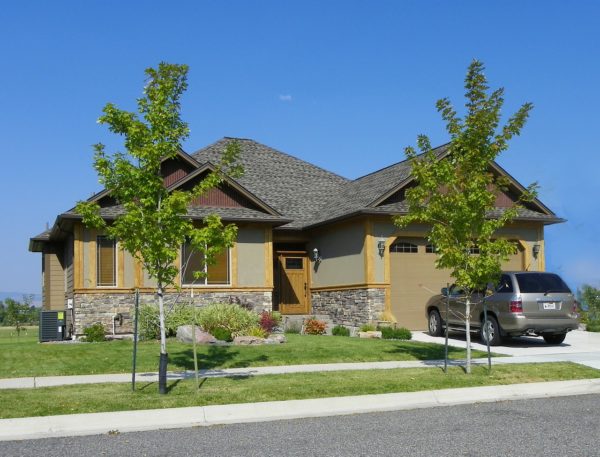 Where to start? Take a look at New York for example, housing experts feel Manhattan real estate will continue to improve because many homeowners in NYC are investing in upgrades and remodeling their homes, rather than buying new ones. Here are 6 easy ways to make your old home look newer. 
1. Lighting
A simple way to add a modern touch to your home, is with bright, new light fixtures. You can spend hundreds of dollars on expensive fixtures, or go a more inexpensive route with table lamps and/or floor lamps. For a modern look, choose metallic lamps with simple geometric designs. If you want a bigger & fancier upgrade, install new chandelier. This look can get dated quickly, so replacing the fixtures in every room will have a dramatic impact. 
2. Fresh Coat of Paint
Want your room to go from drab to fab? A fresh coat of paint will do the trick! Consider adding color on an accent wall, or just touch up  your trim with a clean coat of white paint. If your home already has a new coat of paint, look to other things that could use a touch-up. Maybe paint your ceiling a cool grey, or add life to an outdated piece of furniture with a new coat of paint. 
3. Update Cabinet Hardware
Updating old cabinet hardware for a modernized style can drastically change the way the entire room looks. Depending on the overall state of your cabinets, you could opt for completely new cabinetry, or go for new cabinet knobs and pulls which will cost under $5 apiece, and can be done in a matter of minutes. Tip, if the shape of the knob is up to date, but the color or shade isn't, give it a few coats of spray paint.
4. Add Plants/Flowers
Flowers provide a giant boost to your curb appeal. Planting flowers is a cheap and easy way to make a big impact. Your local nursery can give recommendations on what plants and flowers thrive in your area. Just because a garden center sells particular plants that doesn't mean they're a good fit for your area/home. Sticking with perennials will eliminate the need to buy and plant new flowers every year.
5. Replace Old Door Handles
A first impression of a room is the doorknob, so when it's new, polished, and it matches the other knobs in the house, it shows how much you care about your home. Your doorknobs, along with the rest of your home décor, help to create a backdrop for all your activities. Updated door knobs in an older house can really modernize the room. You will be happy how far a few hundred dollars can go to make your home feel polished and special. 
6. Add New House Numbers
Every house needs house numbers, but not every house has to have boring house numbers. They're easy to change and can make a place feel fresh and new when you find just the right ones. For example, if you only have a couple of numbers to put up, why not supersize them! It'll help them stand out, and will add a unique touch to the exterior of your home.