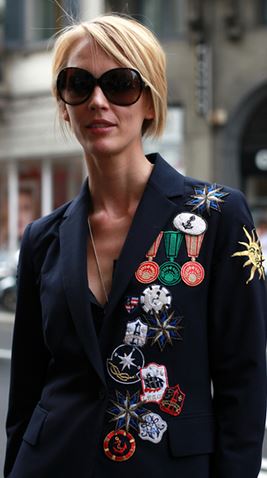 Patches are commonly known for being used by Boy Scouts to mark their different achievements and signify their accomplishments. Although they are most popular for the scouts' use, there are several other ways to use them and they can be a great way to show personality or promote a business or cause.
1. Use on Leather Jackets or Vests
Many bikers or car enthusiasts wear leather jackets and vests as a way to fit into a crew or group while spending time on the road. Patches can be used on the attire to show the different places the rider has driven to, while also working to dress up their wardrobe for an edgy look. They are also commonly used on jackets to show membership in a certain club or organization.
2. Wear on Jean Jackets
Many teens and adults who enjoy attending concerts often wear a jean jacket as a way to proudly show off their favorite bands. Patches can be added anywhere as a great way to look grunge while personalizing your favorite jacket.
3. Name Tags
For those who want to make it easy to know different people's names, patches can be used for name tags on sports attire, for staff at a business, or even for a fun way to label shirts at a family reunion.
4. Use on Backpacks
For kids who commonly lose items at school, patches can be used on backpacks to label their belongings with their name. They can also decorate their backpack with different patches that are fun and create a colorful look, which can be purchased at Patch Superstore.
5. Sew onto Purses
Patches are a fun addition for purses for both teens and kids where it will personalize the item and create a new fashion statement that is truly unique to the person. They can be used on different sides of the bag, as well as on a thick strap, for a fun accessory that truly stands out. They can also be used on backpacks or book bag for kids. This will help them never lose their backpack in a sea of similar bags.
For students, the patches can be sewn onto messenger bags as a way to voice certain political views or groups that they're involved in while carrying their books.
6. Blankets
Patches are a versatile item to add to a number of clothing items and accessories, and can even be placed on blankets for decorative use. They can be given as gifts for a way to mark certain memories or events for a parent, grandparent, or child.
Patches have continued to maintain their popularity over the decades as a unique addition that adds plenty of detail to different items. They're fun to use for all ages and can be added to a number of products for a great way to label and personalize various item.
Author Bio:
Kandace Heller wrote this article with help from Nicki Stevens. She is a freelance writer in Orlando, Florida. She studied Communications at the University of Florida. Her favorite hobbies are reading and writing about fashion.