Disclosure: This post may contain affiliate links, meaning we get a commission if you decide to make a purchase through our links, at no cost to you. Please read our disclosure for more info.
Last Updated on March 19, 2022 by Steal the Style
Sun. Waves. A cocktail in one hand and a lounge chair to lay in.
Doesn't that sound perfect? If you have all those things, you're living the dream.
Except what do you do with your hair? Styling your locks for lounging, fun in the sun, and hot weather is a trick and a half.
Here are 5 summer hairstyles that are perfect for a beach day, no matter what activity you'll be doing. Check it out.
1. Beach Wave with Balayage
This look doesn't require a lot of maintenance, and it's not as expensive as other styles. Save those pennies and go for a beach wave with balayage.
The beach wave is easy. Spray some texturizing spray after you get out of the shower (or the ocean), like Not Your Mother's Beach Babe or Joico Beach Shake. Or if perfect is what you're going for, use a curling wand loosely to get those all-day waves that look like you just got out of the water.
Good salons can help with the balayage. This type of color fades to lighter color on the bottom, so it's harder to tell when the roots grow out.
2. Effortless Ponytail
Give your hair the perfect tease on top to give it a bit of volume. Then pull it into a ponytail like you normally would. Secure with an elastic.
Wrap a bit of hair around the elastic to make it look more natural. This style is great for keeping your hair out of your face while you're visiting the beach, even if you're more active, like swimming or surfing instead of lounging.
3. Top Knot Bun
A style like this goes with any of your favorite outfits, even cowboy boots. Your bikini never looked so good as with a top knot. It gives you a casual, relaxed style and it's perfect for lounging or long walks on the beach.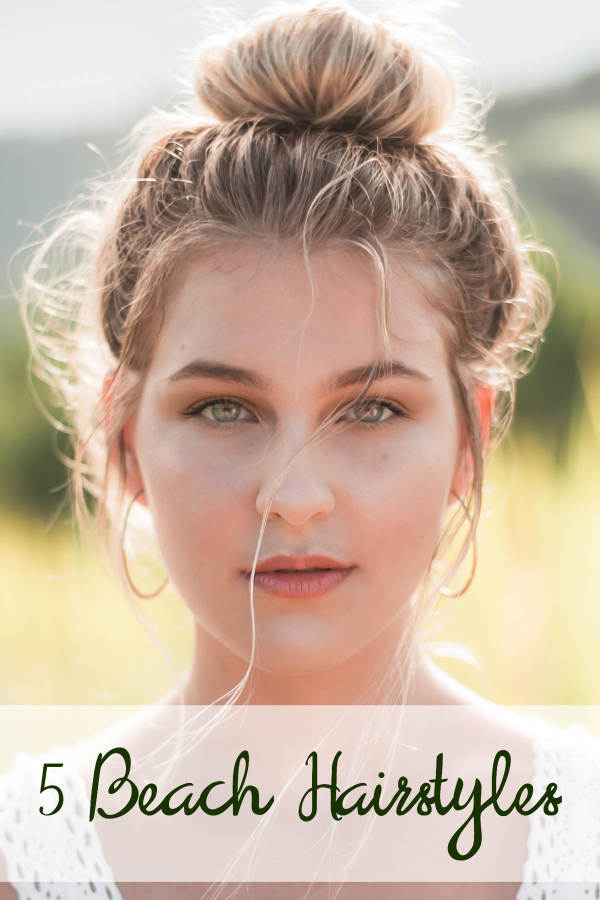 Start with a high ponytail and wrap an elastic around. Then take your ponytail (all of it) and wind it around the elastic. Fix it in place with a few bobby pins, and finish with a light hairspray to lock everything in place.
Here's a pro tip: use some texturizing spray (like those ones we mentioned above) before you do the ponytail to give your hair a little help.
4. Waterfall Braid
A waterfall braid is a partial braid, where the third strand appears to be loose and "falling" instead of pulled in with the rest. It's perfect for the beach.
The easiest way to practice this is by watching a tutorial. A few tries and you'll have it. You can combine this with the ponytail above, if you do the braid first, then pull the hair back.
5. Pull-Through Braid
While this style looks fancy, it's really not. It's not even a real braid.
Start with a small ponytail on top and secure it with an elastic. Make another ponytail right underneath it with another section of hair. Then take the tail from the first ponytail and split it in half.
Wrap each half of the ponytail around the outside of the ponytail underneath it, and then put the two halves back together into one ponytail underneath the second ponytail and secure with an elastic.
Make another ponytail underneath that one, and repeat the process, until you reach the end.
Best Summer Hairstyles You Have to Try
Every one of these summer hairstyles will have on your way to beach fun in no time. From the effortless ponytail to a top knot or different braids to try, keep your hair looking stylish and out of the way.
For more summer style tips, including at work when you're back from the beach, read more on the blog.