Disclosure: This post may contain affiliate links, meaning we get a commission if you decide to make a purchase through our links, at no cost to you. Please read our disclosure for more info.
Last Updated on January 9, 2018 by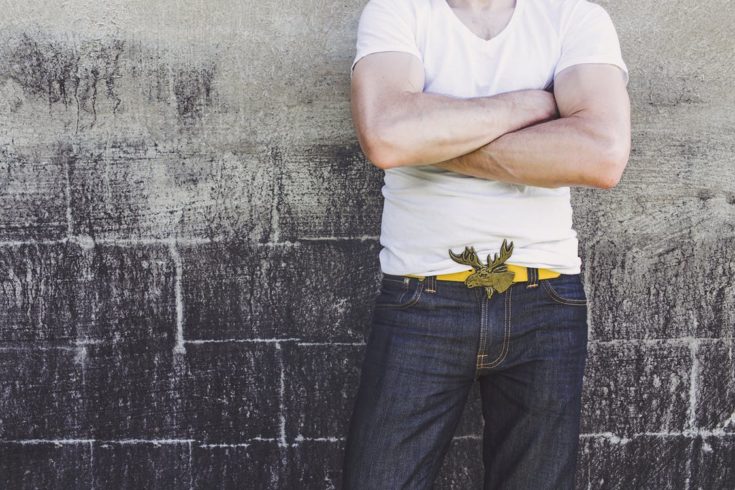 Belt buckles have a long-standing relationship in the world of fashion. From the days of the old wild west to the runways today, belt buckles are both iconic and functional fashion accessories. Designers have been showcasing lamb-leather belts with flashy belt buckles on the runway this season. High-polished logo hardware and monogramming are taking belt buckles up a notch and making the waistline the focal point of a man's outfit.
One of the hottest trends in belt buckles for men this season pays homage to the old west. Tooled-leather and monogrammed leather belt buckles are back in a big way in fashion. Whether they are embossed with cowboy hats, hunting or fishing themes, eagles or surnames, natural tooled-leather belt buckles are being seen all over the runways and in all the major fashion magazines. The one major twist to this trend is that they are not being worn with plaid shirts and denim jeans, as you would anticipate. These belt buckles are actually being seen in the urban subculture. They are being paired with brightly-colored vintage sweaters and pinwale corduroy pants by hipster and urban cultures alike. With personalized belt buckles being such a hot trend, a local leather shop or online retailer will be the best place to purchase these one-of-a-kind gifts. Gavere Leather, https://gavereleather.net/, is an example of a retailer specializing in personalized leather belts and buckles.
Another popular trend in belt buckles this season is high-polished designer logo buckles. While couture designer belts are always a top choice with fashionable men, this season's buckles are much more bold and flashy than in past seasons. Highly-reflective designer belt buckles become the focal point and demand the attention of any handsome outfit.
[amazon_link asins='B01G9NQ4A6,B01FWHASDY' template='CopyOf-ProductGrid' store='stealthestylewp-20′ marketplace='US' link_id='cfd42b8f-f595-11e7-b2cb-116e174df153′]
Three-dimensional belt buckles are also making a strong style statement in the accessories world this year. Many of these belts depict vivid scenes showcasing wildlife, skulls or scenery. They also feature intricate details and craftsmanship; function meets fashion and art with these unique conversation-starter belt buckles.
[amazon_link asins='B072MDLL9Y,B074KCZ899′ template='CopyOf-ProductGrid' store='stealthestylewp-20′ marketplace='US' link_id='e3b93fee-f595-11e7-9e61-5b3eb2b4d000′]
If the goal is to make the belt buckle the focal point of any outfit, pair it with a monochromatic look to set the stage for the main event, and tuck in all shirts for maximum style. If you are looking to give the special men in your life an instant style boost, you can quickly transform them into trendsetters when you present them with of-the-moment style belt buckles.