Disclosure: This post may contain affiliate links, meaning we get a commission if you decide to make a purchase through our links, at no cost to you. Please read our disclosure for more info.
Last Updated on August 28, 2019 by
Many people choose to grow flowers as a fun and rewarding hobby. This probably comes from their love for creating arrangements and colorful bouquets of home grown flowers. Some use these flowers to decorate their homes, while others offer them as gifts.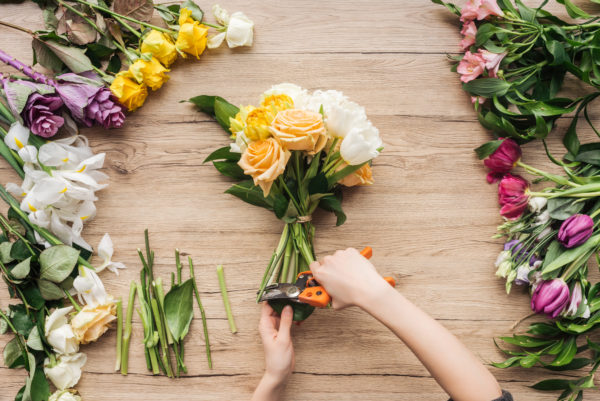 If you find this interesting, you should know that cutting flowers is more than a basic task – get more information on Gardener's Path – but the following flower cutting tips will help you enjoy your fresh flowers for longer.
When To Cut?
The best time to cut flowers is at dawn. That's the coolest part of the day, when the flowers are invigorated and their stems are filled with water. Picking your flowers under the scorching sun of the afternoon will result in water-stressed plants.
In terms of a flower's life, the best time to cut it is when its colors just start to appear. Cutting them in full bloom isn't a good idea, as they won't last for too long in a vase. On the other hand, cutting a flower too early may prevent it from fully developing. For instance, a rose cut in a tight bud stage will never bloom.
Sweet peas and other such annual flowers will bloom for longer if you cut them regularly. On the contrary, slower growing shrubs may count less flowers the next season if you cut them too frequently.
How To Cut?
Always cut the stem at an angle. This will increase the water absorption into the stem. As soon as you cut the flowers, place them into a large bowl with water. Before doing so, make sure that you remove all leaves that will sit under water, in order to prevent them from rotting. Leave the flowers in a cool place for several hours before bringing them into a warmer environment. This will allow them to absorb enough water and will help them live longer.
Next, you can use the flowers to create arrangements and bouquets. Once you place them in a vase, make sure you water them regularly. The best way to proceed is to re-cut the stems and to replace the water about twice a week.