Disclosure: This post may contain affiliate links, meaning we get a commission if you decide to make a purchase through our links, at no cost to you. Please read our disclosure for more info.
Last Updated on June 6, 2022 by Steal the Style
This year's royal wedding between Prince William and Kate Middleton will be inspiring wedding trends for years to come.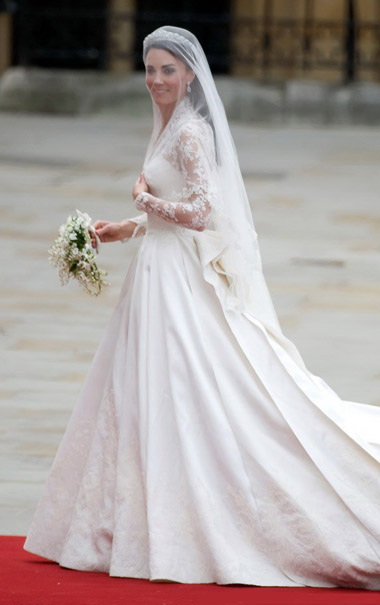 Image Source: Flickr
The beautiful bride was inspired by a demure, classic bridal style and looked stunning without appearing stuffy. Steal her traditional style with current choices that call to mind classic beauty.
The Dress
Kate wore an original Alexander McQueen gown with a lace overlay. Her A-line dress gave her a womanly figure without looking suggestive. The long, delicate, lace sleeves looked sweet and classic without appearing dated or frumpy. She chose ivory over classic white to compliment her fair skin tone. To mimic this style, choose a dress that steers clear of sexy and leans toward the side of conservative. If you aren't into long sleeves, consider a removable lace bolero that can be worn for the ceremony and taken off at the reception.
The Bling
Kate kept it simple when it came to jewelry, and though she was decked out with expensive diamonds fit for a queen, they were understated and took little away from the dress. She opted for pear shaped diamond earrings and a tiara that sparked with diamonds to match. The tiara, though beautiful, did not overpower the bride's hair and added to her look instead of standing out from it. You can use Kate's "less is more" approach to your wedding day jewels by choosing only a few statement pieces rather than wearing them all. If you do opt for a headpiece, choose one that fits you closer to a headband rather than a crown.
The flowers
Kate's flowers were simple and elegant just as her dress was. She carried a bouquet of spring-flowering bulbs like lilies, myrtle, and hyacinth. The bouquet also included ivy which means "fertility". Her traditional white bouquet added to the feeling of classic style and stood well with the rest of her demure choices. Choosing a white bouquet is a good way to make add elegance to your wedding style without taking away from your dress.
The Shoes
Though they were difficult to see, Kate wore custom made ivory satin shoes, with intricately embroidered lace patterns. The shoes were closed, rounded toe with a modest heel, the perfect accessory for the traditional bride. Closed, rounded toe heels are a sweet and modest addition to your wedding style. Opt for lace details if your dress calls for it.
The Hair
Kate's hair was down, with wavy curls and a side part. The duchess embraced a natural style, with her hair flowing with movement as she walked down the aisle. To mimic her style, stay away from too much hairspray and instead sweep half of your hair up and secure it with bobby pins. If you normally wear your hair wavy, your wedding is no time to put it into a tight bun. Follow Kate's lead and style your hair in a way that is natural for you.
The Makeup
With the heavily televised event, Kate had to be looking perfect from head to toe. While many may have opted to cake on the makeup, Kate stayed true to her style and went for a fresh faced, natural look. Her makeup enhanced her features without becoming overpowering. To achieve this look, use natural colors and minimal eyeliner. If you do choose to add color to your lips, be sure to downplay your eyes to balance it out.