Fashion is very subjective—that is one thing I've learned from the people I have met in the fashion industry. Glamour has no real and obsolete meaning as it changes based on every person's perception. But as fashion trends continuously change over time, I must say that nothing really beats vintage style.
Various stars in and out of Hollywood give viewers a blast from the 60's, 70's and 80's with their classy hairdos, especially when they are in the red carpet. With this, fanatics all over the world awe in amazement with their favorite icon's glamorous style.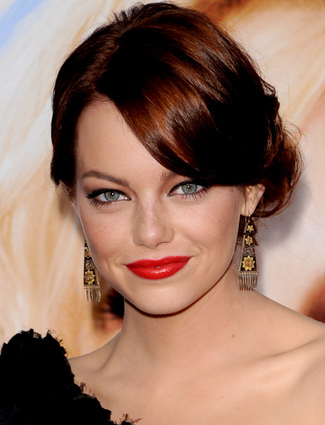 Who would not love Emma Stone's bouffant updo? The young star dazzled the red carpet with her classy freshness when she became a nominee for her role for the movie "The Help". This hairstyle truly revealed and complemented the It Girl's beautiful green eyes.
Veronica Lake waves surely left Hollywood her own definition of fashion as her glossy, one-sided hair which is perfectly waved is still a favorite of many stars and fanatics. This hairstyle is truly sleek and feminine and it may be marked as the epitome of class. For your make-up, however, you will not be able to complete this look without your friendly red lipstick.
Nothing can ever beat Marilyn Monroe if we would talk about red carpet glamour. Up until now, the late star continuously influences the way we define womanhood. This 50's bombshell has truly dominated the movie scene with her golden locks and many of her hairstyles are repeatedly used by many Hollywood stars. Sadly, no one can ever compare on how Marilyn Monroe spells class.
Now, if you are planning to try Ms. Monroe's hairstyle, it is best that you wear it with confidence. It will be quite difficult to pull off if you are not brave enough, darling.
If there is one star I want to revive, it is definitely going to be Audrey Hepburn. It is really hard to forget how the gorgeous icon wore her beehive at her movie, Breakfast at Tiffany's. No matter how old her movie is, I still repeatedly watch it as I am so amazed of how her beauty redefines glamour. Now, in wearing this classy crown, all you need to remember is that you should learn how to accessorize and remember that the simpler your accessories are, the better.
Alright, let's go back to the 1920's with Emmy Rossum' spincurls. If you are not really afraid of flaunting your face, maybe it is time for you to experience vintage by having this easy-to-do hairstyle. Although this may be difficult to pull out for some, the few blessed ones who can successfully wear this hairstyle with class and elegance should definitely prepare their red lipsticks.
If you are feeling dainty and vintage at the same time, maybe it's time for you to try Jackie Onassis' set bob with flick-out ends. The 60's star may be an icon for many of the upper class populace before as a high number of women copied her hairstyle. Now, you don't have to live in the 60's if you feel like reviving this cut as it can be used, especially if you are going to attend formal gatherings.