Disclosure: This post may contain affiliate links, meaning we get a commission if you decide to make a purchase through our links, at no cost to you. Please read our disclosure for more info.
Last Updated on May 26, 2022 by Steal the Style
Fashion and loungewear have been close friends for quite some time, however, there's no questioning that 2020 has seen us all spending far more time in our loungewear than usual. Some of us have had a love for lounge pieces for a long time, some of us our new to the comfort game.
Whether your wardrobe is already stocked full of snug jumpers, warm wraps and knitted pants, or you're hunting for some luxe loungewear to elevate your working from home ensembles, you need to know how to style it up a little. With the right styling, your loungewear can actually become some of the most versatile pieces in your closet. Here are a few comfy and chic styling ideas to take your loungewear dressing to the next level…
Colour Contrast
A little colour contrast goes a very long way in the world of loungewear. Choose your favourite colours to play around with here, the possibilities are endless (but, come on, you can never go wrong with black and cream)! Slip into some merino wool knitted pants or leggings and choose an eye-catching jumper in a plush, silky soft cashmere with a pattern, block colour contrast or slogan to mix it up.
Trackies
This one is essential for those who spend the majority of their day on Zoom calls! Pair your favourite cosy pair of cotton fleece sweatpants with a breathable organic cotton tee and a cashmere wrap. Use your wrap to bring a bold touch of colour to your outfit. This is going to help you stand out, light up your face and help to bring some energy to your working from home routine. Choose a colour that compliments your eyes, hair and skin to look effortlessly beautiful whilst you go about your new normal.
Bright, Creative Colour
The last thing you want is to feel itchy and uncomfortable as you work from home. We have the freedom to choose exactly what we want to wear with our new routines, so why not ditch the boardroom rules and veer towards bright, colourful cashmere items instead! Pure, natural cashmere absorbs colours beautifully and creates amazingly vibrant pieces that will just radiate joy. This is a great way of lifting your mood and treating yourself in more ways than one. Cashmere also regulates your temperature, doesn't crease and lasts a lifetime, so you'll love wearing this investment for many, many seasons to come!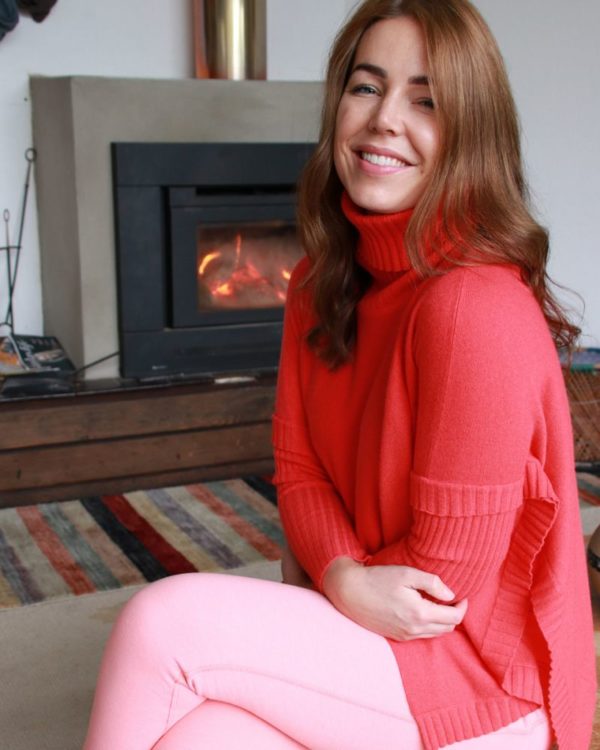 The Annabelle: Everyday Cashmere
Gold Accents
The easiest way of making your loungewear feel more luxe and pulled together? Chunky gold jewellery. Add a statement gold chain necklace to your favourite cotton tee shirt and leggings combo, and you're practically done – it really is that easy. You can take it further by pulling your hair back and adorning your ears with some shining gold studs and layering on a bangle or two.
Tonal Femininity
Dressing tonally is the cornerstone of high end style, and you can absolutely bring that rule into your loungewear rotation. Dress head to toe in a refined cream tone and you'll be feeling like some kind of cashmere encased angel whilst you're working away! A loose fit knitted turtleneck sweater, cashmere pants and plush socks, and you're done – just be careful with your coffee!
Comfy Co-ord
Co-ords are awesome both together and separate (when integrated into other outfits) so they're the perfect thing to invest in when you want chic, comfy outfits both at home and out in the real world. Look for high quality, timeless styles that are going to mix and match with the other beautiful basics in your everyday wardrobe. Materials to watch out for include silk and cashmere blends, organic cotton, cotton cashmere blend or, for a real treat, pure cashmere – there's no beating it for cosy, timeless style!
And there you have it, staying in doesn't mean that you have to compromise on style, at all. Try these looks at home and when you're out and about for flawlessly comfortable style each and every day!
Image Credit: Everyday Cashmere