Disclosure: This post may contain affiliate links, meaning we get a commission if you decide to make a purchase through our links, at no cost to you. Please read our disclosure for more info.
Last Updated on March 16, 2018 by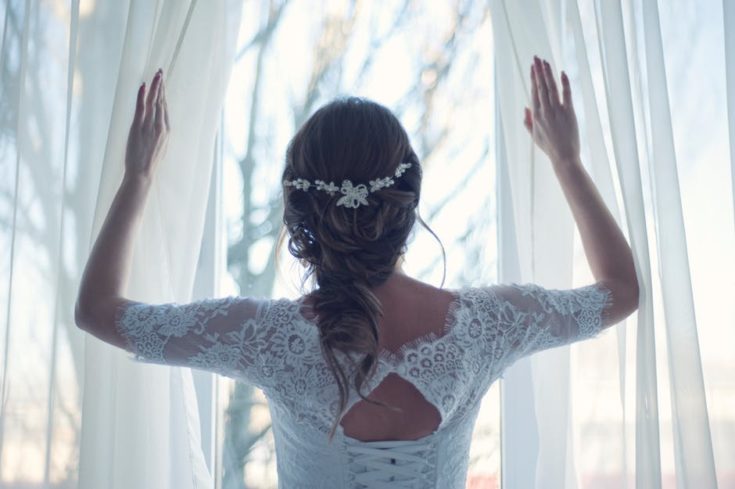 The big day is approaching, and you deserve to look like a princess! Don't have any ideas what to do with your hair? Choosing the perfect hairstyle is one of the most important decisions you will make for your wedding day. However, there is no reason anyone should have to pay in order for their hair to look like perfection. If you don't have money in the budget to get your hair done, don't worry! There are numerous DIY hairstyles that will ensure you look stunning for walking down the aisle. We have DIY hairstyles that don't require hair styling experts. For straight or curly, up or down styles, we have the complete bridal beauty DIY guide: 
Waterfall Braid
The waterfall braid is an effortless style that will make any girl look like a princess for her wedding day. It is an easy yet beautiful hair style that only requires one bobby pin. This braid will look stunning with straight or curly hair. No matter your type of hair, it will still hold its cascading effect. However, this type of braid will take a couple practice tries before getting it down. If you can't do it, then it is always helpful to find a friend who has always been good at braids who you know could master this one. Here is how you can get the look:
Begin by grabbing a small bundle of hair by your right ear.
Start making the waterfall by bringing the left strand into the middle like you would with regular braiding.
Next, pull some hair from the top and add it to the middle.
Now you will pull down a strand from the right.
Choose a small section of hair that is right behind the piece you just dropped.
Place that into the middle of the braid.
Continue this method while working towards the left side of the head.
Once you reach the left side of your head drop the right strand of hair as usual.
Wrap the left strand of hair around the middle piece.
Secure this with a bobby pin!
You can also find a plethora of video tutorials online if you require visuals to learn how to do hair!
A Simple Bouffant
You can never go wrong with a Bouffant! The most classic bridal hair style is the Bouffant; it is simple and elegant all at the same time. Plus, it also is the easiest and quickest DIY hairstyle! If you don't have naturally straight hair but you would like your bouffant to lay flat and look smooth, then you may need to straighten your hair first. However, if you have naturally straight hair, this up-do will only take five to ten minutes! Here is how you can achieve the look:
Section off the very top of your hair and clip it.
Put the bottom half of your hair in a low ponytail
Create a hole at the base of your hair before the hair tie and push your ponytail through it. This will create the inside-out ponytail.
Tease out the ponytail.
Roll the ends of the ponytail upwards to create a chignon and secure with bobby pins.
Take the top hair and twist it and secure it at the side of the chignon with bobby pins.
Loosen some hairs around the face to give yourself a soften front.
Loose Curls
Leaving your hair down and having a natural look is the most gorgeous look a bride can go with. A loose curl will portray the look of a natural wave, giving you this all-natural beauty that will take your groom's breath away! This look is achieved by first lightly straightening the hair, then using a barrel curler to curl only the ends of the hair. If you have short hair, you can still achieve the same look! In fact, it is easy to curl short hair and takes up less time.