Disclosure: This post may contain affiliate links, meaning we get a commission if you decide to make a purchase through our links, at no cost to you. Please read our disclosure for more info.
Last Updated on May 19, 2019 by
The beauty industry is somewhat impervious to recession. In fact, during the recent recession, 1.5 percent of all small businesses closed their doors. But many salons and spas were able to easily ride out the wave.
That's because no matter how tough times get, people still like to look their best and feel like their hair and skin are being taken care of. They want to feel pampered and beautiful.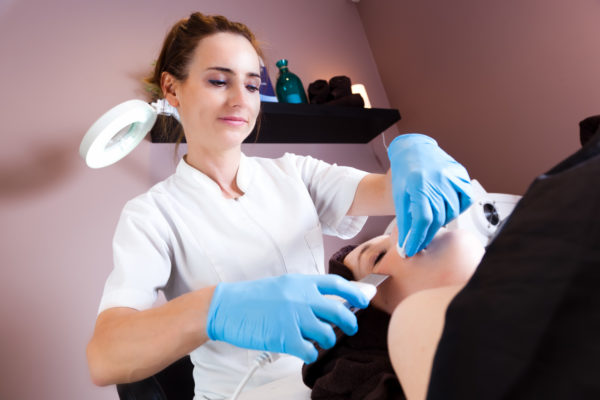 That means that getting your esthetician education is a great investment in your future. If you get your license, you can work for yourself in a job field that is predicted to have a lot of growth in the next few years. Read on to learn more about what it would take to get into school and take the first step toward your beauty career today.
Meet the Age and Prerequisite Requirements
Many cosmetology programs have an age limit of sixteen years old to start. This is so that they can be sure that the students they admit are ready to take the program seriously.
If you're young, you may also want to look into the board requirements in your area for a cosmetology certification. You may be too young to apply. But don't lose faith. You can always get an entry-level receptionist job in a salon until you are old enough to get your license yourself.
You will also most likely need to have completed your GED or received your high school diploma. Most cosmetology programs want to make sure you come in with basic knowledge before they allow you to start the program.
Take the Assessment Tests
Many cosmetology programs have assessments and aptitude tests that you have to take in order to get in. Make sure that you visit the school you are interested in to find out if they have an assessment tests you will need to take before you can be admitted.
You may need to demonstrate that you are competent in subjects like writing, math, and basic science since those are the skills you will need in order to run a successful cosmetology business.
Be Aware of Attendance Requirements
Many programs for cosmetology meet every day of the week and expect you to attend like it's your full-time job. Make sure you are ready to commit to being there every day before you sign up for a program.
The last thing you want is to shell out the money for your classes and then not show up for them. Be prepared to complete the entire semester before you write a check.
Be Prepared to Commit to Training Hours
In addition to the hours that you will need to spend in class learning from an instructor, you will also have to commit to putting in additional hours as an apprentice or training with someone.
You will have to clean up hair, sweep the floors, and act as a shampooer for more tenured staff members in order to earn your place at a salon.
Make sure that you are ready to dedicate yourself to the task and that you have the right attitude about it. Working your way up in a busy salon can be a long and hard-won process. Be prepared to take your time getting to the top.
Look for Community College Programs
One great way to ensure you will get into a cosmetology program and know that you aren't spending too much money is by taking your classes at the local community college.
While you won't necessarily learn the high-quality practices used at the most elite salons and spas, you will have a chance to learn the basics and get started on your education. You can always take finishing classes at another salon later on.
Learn to Style Up-Do's and Roller Best Practice
If you want to style people's hair, you need to learn how to do all sorts of different things. One of the most difficult and creative things to learn in how to do an up-do.
If you learn to master one or two looks before your program starts, you will have a much easier time later on in your program. Learn more here.
Dress the Part for Your Esthetician Education Interview
Most likely, in order to get into a hair or makeup school, you will need to go in for some sort of interview. They want to meet you and get a sense for what your goals are so that they will know you're likely to complete the program.
It's important that you dress the part when you go to your interview for esthetician education. Fortunately, we have a lot of great products that will suit your needs. Make sure you choose an outfit that makes you feel confident and powerful.
Perhaps you could try a great skirt-suit combo. Or if it's a more relaxed establishment, you may be able to wear all black for your interview and fit right in. Try to reach out to someone at the school before your interview to get a good idea of what the expectation is for what you should wear.
More Helpful Advice for Women
The information found in this article can help you prepare yourself and make a great impression when you apply to a school for your esthetician education. But you still need to take your time and put all of your effort into your applications to ensure you are putting your best foot forward.
For more advice on what to wear and more, check out our other posts today.