Disclosure: This post may contain affiliate links, meaning we get a commission if you decide to make a purchase through our links, at no cost to you. Please read our disclosure for more info.
Last Updated on March 17, 2022 by Steal the Style
I love styling hair. I have long hair, down to the middle of my back and I'm always playing with different styles. The pandemic gave me more time than ever to try new styles, so when my mom bought me the YCGIFUNS Auto Cordless Curling Iron, I was so excited!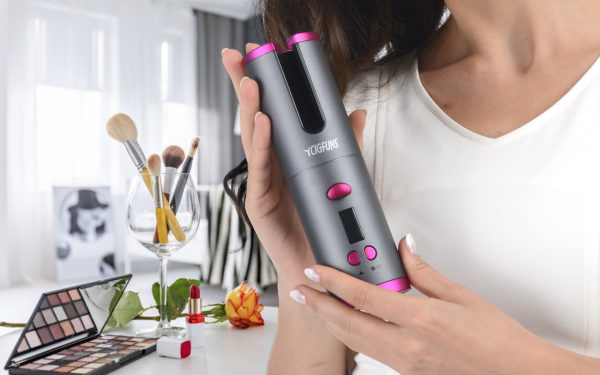 It's Easy to Use
I was a little worried at first. I'm great at using hair tools, but it looked a little complicated. My mom and I read through the directions together though, and we realized it's not that hard. I didn't even need her help to try it first. Actually, I was the first one to use it. I tried it on my mom's hair first just so I could see how it worked. It was so easy! I couldn't believe it.
It took me a minute to figure out how to put the hair into the curling iron, but after I did it once, it was simple. You just put the hair into the slot at the front of the curling iron and press the button. The curling iron does the rest. It sounds crazy and trust me, I was worried her hair was going to get caught in there and be a tangled mess, but it wasn't. After I released the button when it stopped beeping, she had a beautiful curl.
I couldn't wait to use it on myself.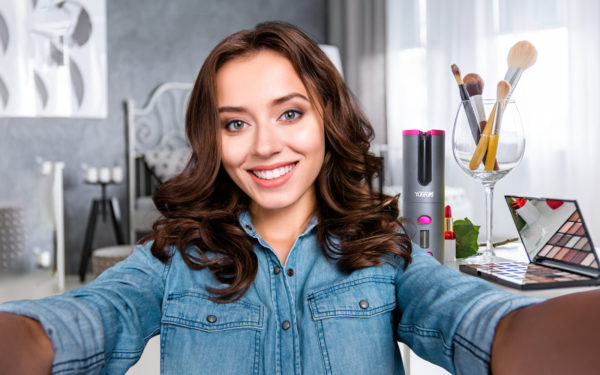 I Love Curling my Hair Now
I love how easy it is to curl my own hair. Because it's cordless, I can use this little curling iron just about anywhere. It's not heavy and it doesn't get hot. I love to sit at my desk with my mirror, play my music and have fun curling my hair.
It came with clips so it was easy to section off my hair. I have long, thick hair. I have to curl the underlayer before I get top or you'd never see my curls. When I use a regular curling iron, this process takes FOREVER. I just stopped curling my hair because I didn't have the patience to sit through it.
With this cordless curling iron, I can do my entire head in about 30 minutes. That's a miracle for me, and trust me it's worth every minute of that half-hour. I don't get hot while I'm curling my hair and more importantly, I don't burn myself. I burned myself a few times with other types of curling irons and they scared me from wanting to curl my hair anymore. This tool made me love it again, though.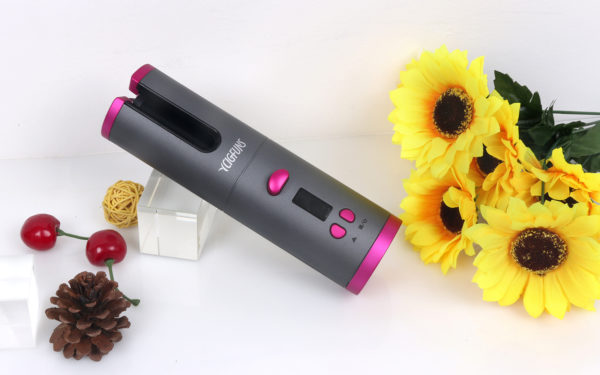 It Shuts off Automatically
Something my mom loves (and I guess I do too) is the auto shut off. I lost count of how many times I left other curling irons on and then left the room. I know, that's a safety hazard, but I'd always forget. With this curling iron, it's not an issue. It shuts off after 10 minutes, which means I can use my hair tools more often without worrying about causing a fire.
You can Adjust the Heat
I love the adjustable heat levels. It goes from 300° to 390° quickly. You don't have to wait a long time for it to heat up. Once I turn it on and section my hair, it's ready to use. I don't put it on the hottest heat, my hair curls pretty easily, but my mom's hair doesn't curl as easily, so we use a hotter temperature for her hair.
We never feel like it's burning our hair. The curl itself is a little warm when we first make the curl, but it's nothing that makes our hair look dry or brittle. In fact, I think my hair looks so much healthier when I curl it with this curling iron.

It Controls How Much Hair you Curl
I was worried about putting too much hair in the barrel, but it doesn't let you. If it's too much, the curler shuts off automatically. I like this feature, especially since I can get lazy and put a lot of hair in just to be done. With how fast this curler works, though, I really don't have to do that, but it's nice knowing about this option.
I Played with a Lot of Curls
I've had a ton of fun playing with this Auto Hair Curler. I tried tight curls all over my head and they looked great. It took longer, but that's because I have such long hair. I had nothing better to do during this time at home, so I had a little fun!
I've also done looser curls, further down my hair. They were long, bouncy curls at the end of my hair. They are perfect for a day with my friends, shopping, hanging out at the beach, or even going to school. I love how much I can change the look of my hair. I've spent hours playing with this curling iron and can't wait to show the world my amazing curls.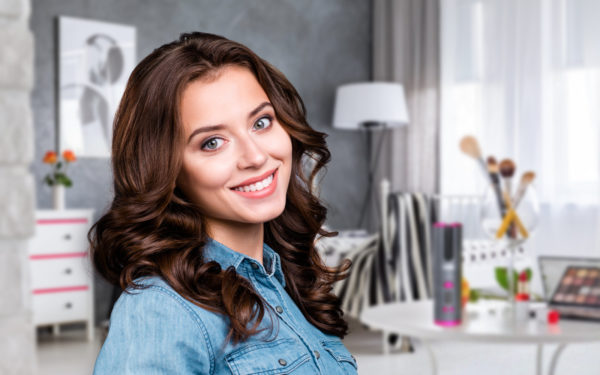 If you love (or even hate) curling your hair, you need this tool. It does all the work for you. All you have to do is put each strand into the barrel and hold the curling iron. It doesn't get any easier than that! The iron itself isn't heavy, it doesn't get hot, and it tells you when your curl is done. Just listen for the beeps – when they stop, you take your hair out.
I needed something that told me when my curls were done. Maybe that was my problem with other curlers – I never knew when the hair was curled. I promise you, every time I've used this, I've had gorgeous curls that I can leave as is or comb out for beachy waves. I love it and I know you will too!