Disclosure: This post may contain affiliate links, meaning we get a commission if you decide to make a purchase through our links, at no cost to you. Please read our disclosure for more info.
Last Updated on April 21, 2018 by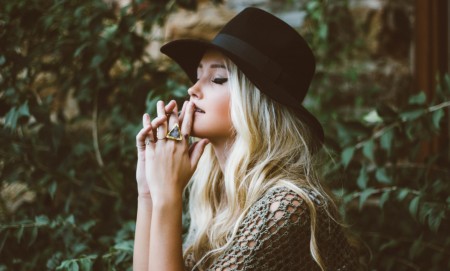 Decades of consumerism imposed an idea on us that we need at least 50 pairs of jeans and as many pairs of shoes in order to be satisfied with our wardrobe and the image of ourselves we present to the world. The rapid changing of trends, cutting-edge pieces and latest colours dictate that we do some serious shopping every month.
On the other hand, we often end up with a heap of unnecessary things, still craving for new and different ones. We buy things to make us happy. And new things can bring this feeling of joy for a while, but pretty soon the adrenaline rush dies down, and the whole process repeats itself endlessly. To avoid this fashion-obsessive behaviour, here are a few tactics that will help you achieve fashion nirvana.
Buy Eco Fashion
An important aspect of feeling good in the clothes that we wear is to know where and how it was made. The origin of material is just as important as its quality. This is one of the reasons why, in recent years, the focus is shifting more and more to eco fashion. Recognition for this should be given to famous fashion brands that have incorporated this concept in their manufacturing processes. H&M, Stella McCartney, Monsoon, People Tree and other pioneers of eco designer clothing place the man into focus, his health, the awareness of the pollution of the planet, and the preservation of natural resources.
This, by all means, does not mean that this fashion is free from fashionable influences, but that its priorities are simplicity, timeless style, quality, and comfort. It is important to realize that style is based on basics, and quality pieces that you can wear for years and that will still look impeccable.
Avoid the Trap Called Fast Fashion
In a word, fast fashion is a trend of buying loads of clothes for a super-cheap price. This term has gained a negative connotation lately because of its negative effects of the planet and people's lives. But it also has a negative impact on our wardrobes.
Most of us buy things on an impulse and what we end up with are wardrobes full of deals rather than something we actually like. How do you resist those irresistible offers? Be more strategic. Do not buy hats just because they are the latest fad. Buy dresses that you really need and that fit you. Take better care of the things you already own.
DIY
Learn to sew. People who know how to sew spend less money on clothes. Plus, they have the loveliest pieces in their wardrobes. When you know how to sew, you can copy the latest designs from magazines and runways. Even if you cannot make a whole dress from scratch, adding some jazzy personal touches will transform the dullest clothes into the most unique statement pieces.
Start a Fashion Blog
This can be a full-time job, or a hobby, but writing a fashion blog will help you experience fashion in a different way. You will learn about other aspects of the industry, besides the aesthetic one. A new perspective might help you satisfy some of the thirst for fashion without spending money. Actually, if you devote to it seriously, it can turn into quite a lucrative job. Then there are also the freebies, such as next season's fads, which you often enjoy as a fashion blogger.
Remember, fashion should be fun, and not an insatiable appetite. Are you guilty of impulsive shopping? Do you have your own strategies to fight this impulse?
Image Credits: Unsplash