Disclosure: This post may contain affiliate links, meaning we get a commission if you decide to make a purchase through our links, at no cost to you. Please read our disclosure for more info.
Last Updated on December 30, 2020 by Steal the Style
The most important part before starting your sewing project is to properly take measurements and write down the values on a piece of paper.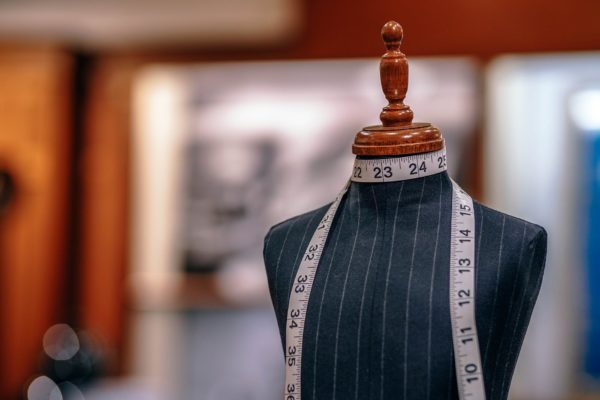 Without exact measurements, the item you are conceiving won't fit your customer and it will need fixes or even starting over. You can't afford that trouble so the best solution is to learn exactly how you are supposed to measure a body, no matter if it's a female or a male one. If you are interested in learning how to do this, keep reading:
For women
Shoulders – If you are trying to take measurements by yourself for yourself this area is going to cause you much trouble. You won't be able to correctly measure your shoulders without someone's help. The fabric tape measure should be placed at the tip of your left or right shoulder and be wrapped around you all the way to the other shoulder where it will meet the other ending. It should be lose enough to slip if you let it and definitely not too tight. Otherwise, you will have problems fitting the clothing item on and the mobility of your arms would be strictly reduced. The shoulder measurement represents the widest circumference of your body. After someone managed to take the measure for you, write it down and measure again to check if everything is alright. Once you verified, write down the obtained value.

Arms – They can be measured both above and below the elbow, depending on the type of sleeve you want to create. If you are going to create something sleeveless, the shoulder measurement should be enough.

Bust – You can do this measurement on your own too but it would be less complicated if you would ask for an extra pair of hands. You need to stand perfectly straight and surround the biggest part of your breasts with the fabric tape measure. It is recommended to pull the measuring tape as tight as possible, but without changing the shape of your breasts. If you are squashing your bust, your clothes won't fit properly and you will feel uncomfortable wearing them. Again, don't forget to write down the results after checking twice.

Waist – Now you should measure the smallest part of your torso, this being your natural waist. Here you have to be careful not to measure too high or too low. Try looking for some pictures to see the exact location you need to target. After you understood where the spot is, start wrapping the measurement tape around your waist and meet the ends above your belly button. You might want to add a half an inch or an inch to make sure you'll have enough room in case you'll eat or drink too much, especially when talking about tight dresses.

Hips – This area needs to be measured just below the hip bone, which represents the fullest part of your hips. Take the measuring tape all around your hips, making sure it is straightened out and has no intertwining and bring it back to front, to the meeting point. You remember you need to write everything down right away, don't you?  

Thighs – If you are willing to sew a pair of pants, make sure you measure each thigh individually instead of both. Place the measurement tape whenever your tights are the biggest. In case you need the full measurement of your thighs (for a conic skirt for example), place it around both of your legs and measure around the knees too.
For men
Neck – Measuring the neck is usually necessary for your shirt's collar. Imagine your buttoned collar and measure around its line. The lower section of the neck, more specifically the area below your Adam's apple is where you should place the tape. Leave the measurement tape loose enough in order not to feel restricted. You should be able to breathe and move normally.

Chest – You need to target the fullest part of your chest, this being the exact area under the armpits and shoulder blades at the back. Keep your hands up and

hold the measurement tape close

to the skin without restricting breathing and measure once. You'll need another person to measure your full chest, meaning that you will have your arms straight next to your body and the measurement will be made including the arms, above the chest.

Sleeves – Go from the end of your each shoulder to the pinch of your hand. Be very exact if you want your sleeves to fit perfectly. Also, for this one you might need someone else's help too, just to be sure. Double check it and write it down.

Front jacket – For men, there is a

special measurement for suits

and jackets. For this, you need to place your tape at the base of the neck slightly aside and go straight down to the point level with your knuckles.

Back Width – Also, for a good fitting measure the back width too. Ask someone to place the tape at the right or left armpit and go straight across the shoulder blades to the other armpit while you hold your arms by your side. This will allow you to feel comfortable while wearing tight clothes or inelastic fabrics.

Full back length – Measure from the base of the back neck all to the ground without wearing shoes and this will represent your full back length. Try to correctly locate the cervical bone where you need to start your measurement.  
Don't forget to always take measurements in front of a mirror to check out if your tape fits straight around your body. Also, write everything down and do not count on remembering so many values. You can also see changes in your weight loss/gain. See it as a weigh journal if you like. Be consistent and never lie to yourself by squeezing the tape or not measuring the biggest area just so you can tell your friends you're an inch down. Breathe normally while measuring your waist and bust.