Disclosure: This post may contain affiliate links, meaning we get a commission if you decide to make a purchase through our links, at no cost to you. Please read our disclosure for more info.
Last Updated on March 29, 2020 by
Finding the right concealer can be really tricky, but it doesn't have to be impossible! This product is honestly such a lifesaver, whether you have an uneven skin tone, under eye bags, dark circles, discoloration or blemishes, your concealer is going to come in majorly handy.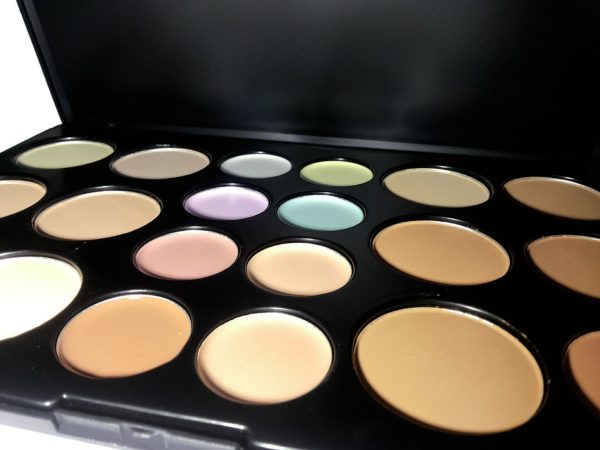 Here's how to go about finding the right concealer for your skin and your skin tone…
Match to your foundation
In order to find the right concealer, you should take a look at the rest of your makeup routine, namely your foundation. Concealers come in so many different formulas, so you'll need to match yours up to the type of foundation that you use on the regular. Love a mineral, lightweight powder base? Then you'll want to use a cream to powder or mineral power concealer, instead of a thin liquid product. Note down your foundation formula and use it as a guide when you're navigating concealer options. Your choices for formulas are going to include…
Liquid:
Thinner liquid concealer is great for covering up dark circles or uneven patches that your foundation didn't quite cover. These usually come with a wand applicator.
Cream:
Creamy concealer is great for pinpoint concealing and for combination skin. You can cover up blemishes without catching on any dry patches. You'll need a synthetic makeup brush or wet sponge to apply your cream concealer.
Stick:
Stick concealers are super traditional and perfect if you have acne prone skin. You can get these in color correcting formal or matched to your skin tone.
Cream to Powder:
Cream to powder concealers are absolutely perfect for those with oily skins that need to cover up a few blemishes. The thick, creamy formula conceals, and once it dries down to powder it fixes in place and will stay all day.
Powder:
Powder concealer is great if you really struggle with your makeup fading or slipping off your face throughout the day. This is best for evening your skin tone and fixing your other products in place.
Matching your concealer to your skin tone
Once you decide on which concealer formula is going to work best with your foundation and your skin type, it's time to get to selecting the right colour. Finding the right shade to match your skin tone can be pretty tricky, but there are a couple of tricks to try that will help you to find the perfect one for you…
Match to your neck
Most people think that they have to match their concealer to their face, but in order to put together a beautifully seamless look, you should actually match it to your neck. The right colour will blend perfectly into your neck and look almost undetectable.
Go out in sunlight
It's not enough to trust the lighting in the store that you're in. No matter how hard they try, the lighting in there is artificial, in fact, a lot of stores use strip lighting which is famously unflattering. Swatch your concealer on your neck and go on a walk in the natural sunlight, this is the most honest lighting possible and will really show whether your concealer colour is the right one for you.
Think about function
Do you want your concealer to cover your dark circles or brighten your face? You might want to consider a shade that's a couple of tones lighter than your skin tone. Maybe you need to cover blemishes? You'll need to match your concealer to your exact skin tone for a flawless camouflage.
Follow these tips and you'll find your perfect concealer in no time!