Disclosure: This post may contain affiliate links, meaning we get a commission if you decide to make a purchase through our links, at no cost to you. Please read our disclosure for more info.
Last Updated on August 6, 2019 by
Hosting dinner parties is something of a lost art. You likely invite your friends over all the time or visit them, but most of these visits are casual and don't involve much beyond chatting, watching TV or videos, and maybe going out to eat somewhere. There's nothing wrong with doing these things, but you may be surprised by the fun you can have when you make food for others and have your evening planned out.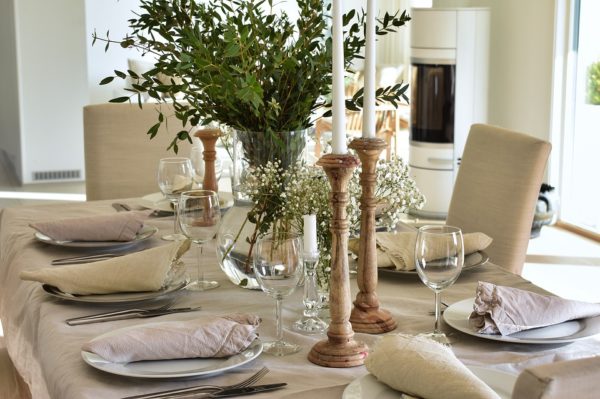 Dinner parties are great for special occasions or to impress someone. The following tips can help you host the perfect dinner party.
Start Preparing Well in Advance
Whether it's formal or informal, planning out a dinner party can be stressful. That goes double if you wait until the last moment to get everything ready since you might not realize everything you need to put the dinner together. Preparing in advance gives you the appropriate amount of time to consider how many to invite and what to serve. To save time, you can prepare cold dishes ahead of the dinner, as well as hot dishes you can reheat and serve. 
Set the Table
Your table is going to, quite literally, be the center of your dinner party. So, setting it is an important step in preparing for the evening.  To put on a proper formal dinner, you need good tableware, cloth napkins, a tablecloth, and possibly a few decorations, like centerpieces, that can enhance your dining room's appearance. Fresh flowers are always a great centerpiece. But, if you choose to use them, make sure to keep them short enough for guests to see and talk over. You can also include simple, non-scented candles to help set the mood. Using non-scented candles keeps fragrances from interfering with the taste and smell of your dishes. 
To avoid a rush at the last minute, consider setting your table early in the day, maybe even before you start cooking. This way, the task is complete and you can forget about it until your guests arrive.
Clear the Air
Most people clean their homes before they let party guests over and with good reason. After all, you want to give your guests the best impression and the best experience you can. But do you clean your air, too? A home air purifier can come in handy for clearing out bad odors and cleaning supply fumes, in addition to the dust in the air from tidying up as you don't want it lingering in the air when your guests arrive.
Plan Your Dinner With Your Guests in Mind
Do any of your guests have dietary restrictions, like food allergies? Do they have favorite foods you know how to make? By keeping their preferences and needs in mind, you can do your best to give them a night to remember. They'll appreciate the consideration you show them.
Keep the Menu Within Your Abilities
You may feel tempted to serve up something fancy and creative to really impress your guests. This could include something difficult and expensive to make, such as baked lobster tails, or it could be a chef's unique take on an old classic. Either way, you should try making your chosen dish on your own before you serve it to others. If it doesn't turn out the way you want it to, you should stick to something easier. Serving something simple but tasty is a bigger win than serving something fancy but badly made.
If you decide to serve alcoholic beverages, keep it simple. You can save yourself time and stress by sticking with red or white wine and maybe one signature cocktail. Some easy examples include a gin and tonic or vodka soda, nothing that would require too many ingredients to prepare. No need to roll out an entire bar cart for the evening. 
Hanging out with your friends can be a lot of fun, but if you want something more, a dinner party is a great option. As long as you pay attention to your decorations, state of your home, your menu, and your guests' dietary needs and preferences, you can put together an amazing dinner party.