Disclosure: This post may contain affiliate links, meaning we get a commission if you decide to make a purchase through our links, at no cost to you. Please read our disclosure for more info.
Last Updated on July 22, 2020 by
I like to think I am pretty environmentally aware. I proactively do whatever I can to reduce my carbon footprint. I compost and obsessively recycle. I favor reusable products. No plastic water bottles. Short showers. Less paper products.The obvious stuff. 
But until recently I was blissfully unaware that my hygiene regimen wasn't exactly eco-conscious.Yes, I purchase products that are natural, organic, and not tested on animals. But I wasn't necessarily thinking that I could do a lot more with virtually no effort.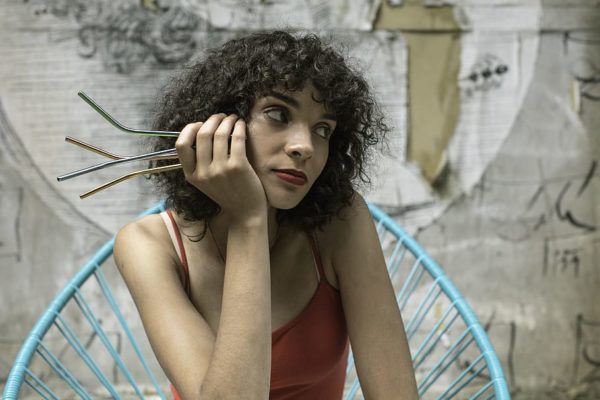 Like many people, I was raised with the idea that when it comes to body cleansing products like shampoo, conditioner, and soap, the more suds, the better it works. I wasn't even thinking that all those foamy, soapy suds spiraling down the drain were going to end up polluting some waterway. Seems obvious, but the cause and effect just never clicked with me. 
I wash and condition my hair every day. Yes, I know I also need to change that routine. And I'm big on switching things up, so I have at least seven different types/brands of shampoo and conditioner in the shower. Out of town and weekend guests often comment on this. I thought it was normal. The ribbing from friends says the opposite.
I had my ah-moment when I was jokingly mentioning to a girlfriend that during this pandemic I was stocking up on toilet paper, rice, and shampoo (not necessarily in that order). She said she had been using a solid shampoo bar for a while. What? I thought you only used those types of products when camping.
Turns out that she was completely hooked. Then she started saying all the right things that got my attention. Sulfate and Paraben free. Chemical free. Vegan, Plant-based. Zero waste (no plastic or paper) and 100% compostable. Good for me and the environment. Win-win.
I ordered some and also became a fan. My hair was soft and shiny and I didn't miss my space-hogging shampoo/conditioner bottles. Not to mention, lugging them home from the store. It also didn't hurt that these products smelled amazingly fresh because they're made with botanical oils and essential oils.
And when travel becomes a safer option for me, I'm excited to pack up my zero waste cosmetics (my solid shampoo bar and solid conditioner bar) and know that I won't have a leaky mess inside my suitcase.