Disclosure: This post may contain affiliate links, meaning we get a commission if you decide to make a purchase through our links, at no cost to you. Please read our disclosure for more info.
Last Updated on August 17, 2022 by Steal the Style
So you've grown the beard, how do you maintain the hard work? It's like owning a nice car, you have to give it the right care and maintenance.
Keep on reading for our guide on how to maintain a brilliant beard through washing, styling and trimming it.
Wash Your Beard
Keeping your beard in good condition is crucial to ensuring it stays healthy and attractive. Washing your beard may seem like a basic step but it's often overlooked in male grooming. A good beard wash can combat that itchy feeling. Regularly washing your beard can remove a build-up of dust and dead skin, especially important if you live in an urban environment or work outside.
Start with cleansing the beard area with water and massage a good shampoo in, before rinsing with water. Then massage a conditioner into the area and leave to absorb into the hair before rinsing again.
Beard Oil
Using beard oil has so many benefits. It will prevent dandruff, stop  itchy and make grooming easier. If you live in a humid climate and have a shorter beard, you probably won't need to use it every day, but if you live in a dryer climate, we recommend using it once a day or more.
The best time to apply a beard oil is after a hot shower, this is when the hair will absorb the most oil. Ensure your beard is totally dry before application, water will stop the oil from being absorbed. Only use two or three drops, a little goes a long way, but it obviously depends on the thickness and length.
Pick the Right Shape for Your Face
With an oval-shaped face, you can get away with lots of different styles as you have both straight and oval features. Square the beard at the jaw and keep the lines on the cheek clean. This will give you definition but will avoid that hipster look.
Rectangular faces are often long so having your beard styles triangular, long and pointy will counterbalance this. By having fuller cheeks on your beard it will give the impression of having a slightly wider jaw and draws attention away from your longer face shape.
With triangular face shapes the goal is to draw attention away from your chin.  The best way of doing this is to have a mustache with stubble or a short beard, it will bring the attention higher up your face. Avoid anything too full and thick on the cheeks, this will widen the jaw.
A round face looks great with a triangular-shaped style so keep your beard short on the cheeks and longer towards the chin. A goatee with a little stubble on the cheeks will create the impression of a more pronounced chin.
Square jawed men should be careful as they shouldn't grow a beard that over-exaggerates the jaw. Avoid sharp lines and right angles, instead opting for a rounded or triangular shape.
Style Your Beard
A good styling routine shouldn't take too much time, all you need is the correct tools. We recommend using a beard brush and comb, styling balm, a spray and a hair dryer.
Experiment with a sea salt spray when your beard is still wet, spraying it throughout the hair and distributing it with the comb. A good sea salt spray will give the hair more texture and volume. Next apply a conditioning agent, like a balm, to damp hair for better absorption.
After these steps, use a hairdryer to eliminate any unwanted curl and brush the hair into your desired shape. Use a round brush if your beard is large, this will help control the direction your beard curls into.
Finally, end with a styling balm. Rub a small dollop on the balm of your hands, this will help warm it up. Rub the balm down the base of your beard and into your mustache. Smooth out the surface with a beard comb and shape it as desired.
This is just our advice, experiment with products and techniques until you find the right one for you.
Get Regular Trims
Trimming your beard is very important for aiding the growth as well as keeping it looking full and healthy. The longer your beard is, the more attention you will need to give it. It may seem counterproductive to trim your beard, if you're trying to grow it, but it will make the hair look thicker and fuller.
Cutting the strays hairs is such a simple yet effective way of maintaining beard health. Many people forget that beards also get split ends, the longer you leave it the more your hair will split. Trimming your beard is the best way to reduce the amount of food and drink getting stuck in it. Trimming will also help stop the hair knotting and becoming tangled, there will be less rogue hair
If you regularly use beard oil or balm, you will need to trim it less.
Be Patient
Before you can style a beard, you have to give it the time to grow. The best advice for growing your beard would be to leave it alone, no trimming and no shaving. You should leave it untouched for the first 4-6 weeks this will encourage the hair to grow in evenly. Once it reaches its desired length, you should trim it. It may look messy as it grows out but we promise it will look different when it reaches full length.
Remember, every beard grows at a different rate and to different lengths. For some men it takes up to a year to grow their desired length of beard. Remember not to compare your progress with others.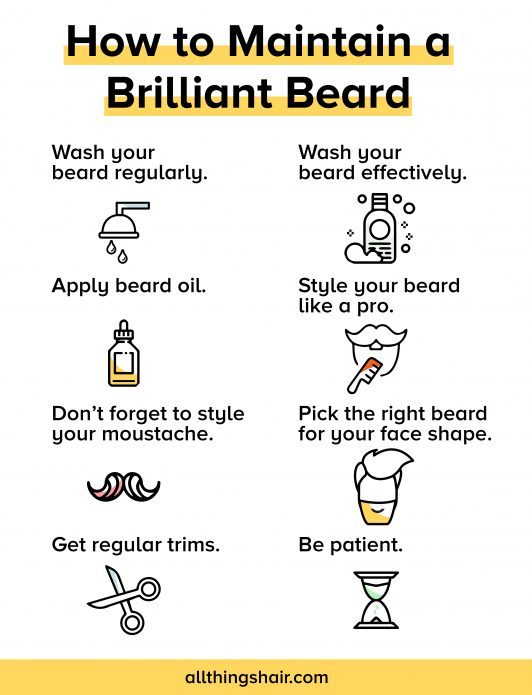 Source: https://www.allthingshair.com/en-uk/mens-hairstyles-haircuts/beard-grooming-tips-how-to-maintain-a-brilliant-beard/