Disclosure: This post may contain affiliate links, meaning we get a commission if you decide to make a purchase through our links, at no cost to you. Please read our disclosure for more info.
Last Updated on August 1, 2018 by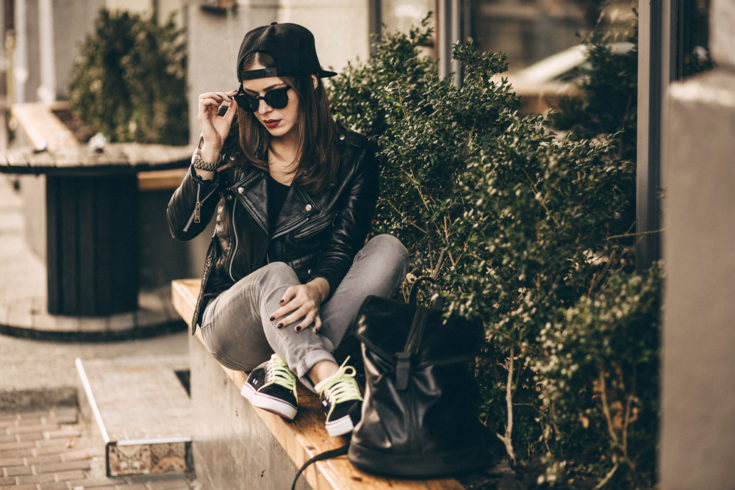 There's a time and place for head-to-toe leather, but it usually requires you to be on a long-haul trip via Harley Davidson motorcycle (or established at a kinky night club). Many women are under the unfortunate misconception that adopting a biker chic look requires them to pull on leather boots, strap on some chaps, and don a heavy jacket. But this is not the case. These authentic biker garments are meant for protection when riding a motorcyle; they are not necessarily designed with style in mind. So if you want to take this look to the next level you need to stop being so literal and find a way to make your favorite biker garments fashionable. Here are just a few options to consider.
[amazon_link asins='B076Q95WPL,B00R6IBG6Q' template='CopyOf-ProductGrid' store='stealthestylewp-20′ marketplace='US' link_id='552edd74-95d4-11e8-b318-03ae659c58d5′]
Nailing this look is mainly a matter of degrees. While you can certainly commit to an all-leather look you'll likely find that you get the wrong kind of attention from this slavish devotion to the tenets of biker wear. Your best bet to adopt this fashionable trend is to select a few key pieces for your wardrobe and then pair them with other items. For example, you can get a lot of use out of biker jacket. You might pair it with a slouchy V-neck tee, skinny jeans, and knee-high boots for a casual day about town; throw on a long chain with a pendant and some aviator sunglasses to complete the look. Or you could slip it on over a sparkly mini dress for a night out – just add some cute booties, drop earrings, and a chunky cocktail ring. There are all kinds of ways to rock a leather biker jacket without actually looking like a biker, so don't fail to obtain this versatile piece.
Of course, you might also opt for a biker-inspired jacket, and some of the trendiest versions mix a low-key, feminine vibe with tougher touches. For example, you might find a white, tan, metallic, or otherwise neutral leather jacket that comes with a brightly-colored belt but features studded epaulettes or big buckle detailing. The masculine/feminine dichotomy strikes the perfect balance when it comes to creating a flattering, fashionable look that is nonetheless edgy.
Other than a jacket you'll probably want to get yourself a pair of biker boots, and this style generally calls for a sturdy (read: chunky) heel and stiff leather. You can definitely stray from the formula with a taller heel and form-fitting leather of a lower caliber, but the more you change, the less onlookers will identify your look as biker chic. Luckily, you can totally rock biker boots with a wide variety of ensembles. For example, you could pair them with boot-cut jeans and a flirty, feminine blouse. Or you could opt for a fitted chambray shirt, a swishy pleated skirt, and some bright, patterned tights, adding a touch of toughness to an otherwise girly look. You could even go for road bike shoes with your everyday outfits rather than boots if you prefer.
[amazon_link asins='B004J4X85M,B01JIMIZRK' template='CopyOf-ProductGrid' store='stealthestylewp-20′ marketplace='US' link_id='64a2b4dd-95d4-11e8-a033-39c479f31cff']
The idea here is to go for the real deal, but only with pieces that can be used to create multiple looks; in other words, seek use value. Skip the leather chaps, the padded gloves, and the hinky handkerchiefs that are hallmarks of the biker look and opt instead for the jacket and boots that can be paired with nearly any ensemble in your closet. Even a pair of form-fitting leather pants could be used in myriad ways if you get creative. The right garments paired with other styles will have you looking biker chic in no time.