Disclosure: This post may contain affiliate links, meaning we get a commission if you decide to make a purchase through our links, at no cost to you. Please read our disclosure for more info.
Last Updated on December 30, 2020 by Steal the Style
Regardless of size, bathrooms can be quite tricky to decorate, and if you are not sure what style you wish to use, it could end in a style fiasco. The main idea is to create a space where you will be able to relax and feel safe, especially when you are looking forward to a nice hot bath. One of the ways to create a soothing atmosphere is to go with a vintage design.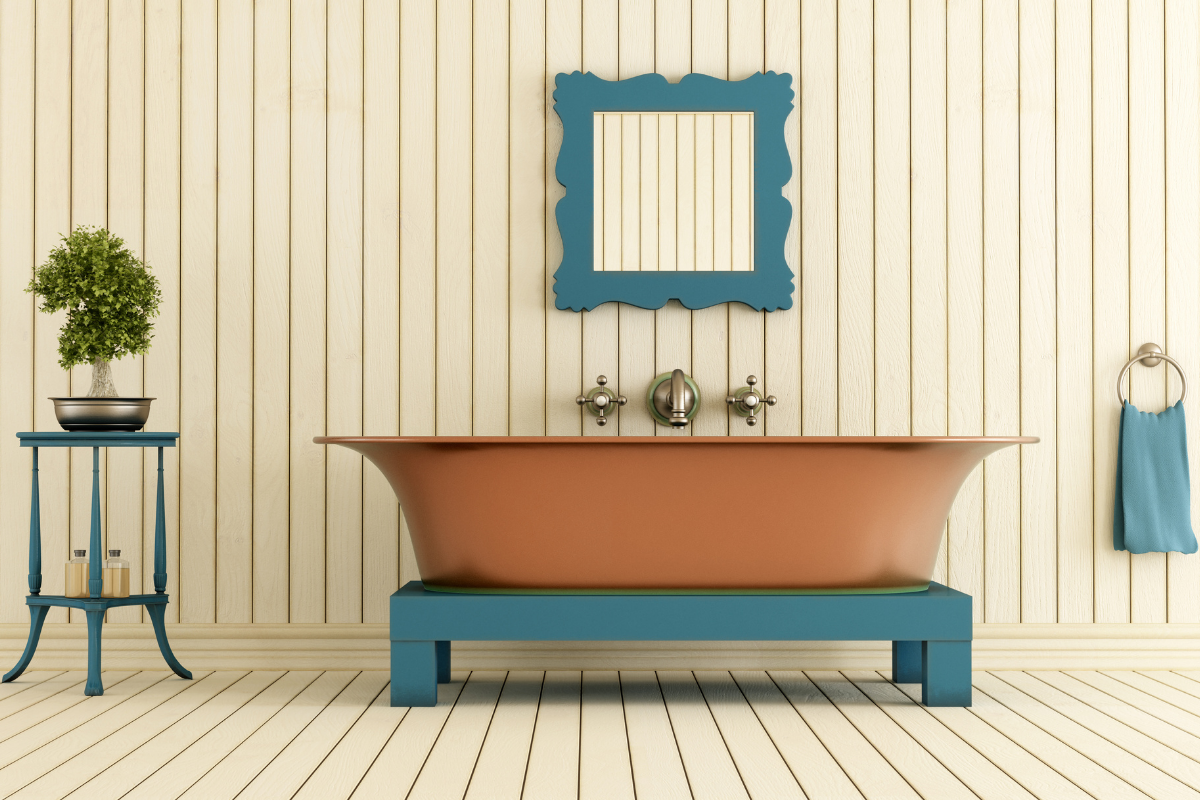 Draw Inspiration
Not all bathrooms are the same, and you cannot decorate yours the same way like you saw in a magazine, but you can use some designs for inspiration. Remember to always add a personal touch in order to really make it your own style. Keep in mind that using existing ideas can help you come up with a superior version for your bathroom.
Vintage Mirrors
No bathroom can be complete without a mirror, for those who would like to add vintage charm to it all, you will have to search for a vintage-themed mirror. Be sure to look through and match a number of vintage frameless mirrors as they will look great.
Repurpose Old Cabinets
Almost any home has an old cabinet or drawer just lying around, and before you could even consider throwing it away, it is time to breathe new life into it. Repainting and fixing minor issues can help you decorate your bathroom. Keep in mind to keep function over form, because it will be useless if you have a cabinet that you cannot use to store things.
More than Just Storage
There is much you can do with an old suitcase, instead of having it lie around collecting dust. In the bathroom, it will be best used for displaying some of your accessories, or even for storing bathroom supplies. Nevertheless, remember to clean it out first, and to find a good spot for it, otherwise it will seem like you are only cluttering your bathroom.
A Small but Charming Addition
You can have lots of fun with setting up a towel display and arrangement in your bathroom, but you need to be careful not to go overboard, as it could take the focus of the room. Moreover, the colour and size of the towels can give your bathroom a sense of comfort and charm. Nevertheless, try to take it slow, because too many bathroom towels can ruin the delicate balance you are going for with your design.
Changing Your Floors
If it is time to change your flooring, then it is time to opt for a wood-type floor. Not only will it make your bathroom seem warmer and more comfortable, but it will be easier to take care of as well. On the other hand, if you have a larger budget, then by all means go for marble in your bathroom. It will give it a very Victorian look. However, make sure that you have good heating in your home, as marble can tend to get cold when the weather is chilly.
Change Your Pluming to Accommodate New Fixtures
Vintage-styled bathrooms often have new fixtures in them, because they go well together with the overall look. However, this does not mean that it will be easy to change them, and in most cases it will mean that you need to call in the professionals to help. You have to check your plumbing in your home, in order to see if you can accommodate the new additions, and that there will be no issues in the future.
Coming up with innovative décor for your bathroom will be taking some time, and you will have to put in some thought before you get started. However, the end results will be well worth it, because then you will have a bathroom you can really enjoy. Alternatively, you can have a look at existing decorations to give your creativity a jolt and to come up with something even more intriguing. Nonetheless, you need to avoid going overboard as it will quickly ruin your design and you could end up with a mess and clutter. In the end, it will be necessary to have fun when working on your décor.