Disclosure: This post may contain affiliate links, meaning we get a commission if you decide to make a purchase through our links, at no cost to you. Please read our disclosure for more info.
Last Updated on March 20, 2014 by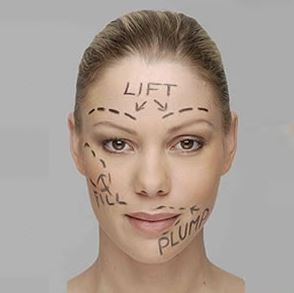 American society (like nearly every society that has come before) has a beauty obsession. For the Victorians, it was corsets to give a narrow waist. For Americans, increasingly, it's liposuction and breast augmentation for surgical procedures, along with facial injections and skin treatments for non-surgical ones. As this phenomenon continues to grow and evolve, very few people take the time to think—is bigger always better. Here's a glance at how these expectations and obsessions have developed over the years, and the role beauty will play in America's future.
Prevalence of Surgery
According to the American Society for Aesthetic Plastic Surgery, there were over 330,000 breast augmentation procedures performed in 2012, and that's a nearly three-fold increase since 1997. Liposuction—removing fat cells from the abdomen and other parts of the body—has over 315,000 procedures done each year, an increase of nearly double from 1997. Non-surgical procedures have seen an even larger rate of increase, with nearly 5 million performed in the US in 2012.
While this is a booming business for plastic surgeons, the underlying motivations are open to question. There is a plausible narrative condemning the beauty, fashion and diet industries for these steep rises in cosmetic procedures, 97% of which are done on women.
Motivations for Patients
Women are bombarded with images of an unattainable ideal on fashion and diet and beauty magazines, all of which show images meant to make women feel insecure about their appearance, while promising that there will be a simple program that can get them to look like the cover models. The problem with the type of imagery that women see in magazines and on billboards is that these photos have been drastically altered to make models look perfect.
While there are some women who will never be satisfied with their appearance, many women find a wealth of self-esteem after undergoing cosmetic surgeries. When asked, cosmetic surgeons say that their patients are getting surgery to boost their self esteem, or remove features that trigger self consciousness. For older patients, the justification is maintaining their appearance, or holding back the impact of aging. Women can basically pick an area of their body that they don't love and alter it to their liking. Most procedures allow women to choose the size for their breast implants, decide how small to make their tummies, or how full their lips should look. By having the power to alter their appearance, women are able to draw self-esteem and confidence from these processes.
Still, it's hard to shake the narrative—especially for younger patients, who are a majority of clients according to ASAPS—that they're getting procedures to compete in an environment where physical attractiveness gets ancillary benefits. Women in careers as diverse as education and the financial industry say that they've gotten breast lifts and augmentations done because they expected to be paid, and they've been proven right.
Long Term Trends
Ultimately, cosmetic procedures are about control. The people who get them aren't just getting the procedures to remedy physical imperfections, but are using them as a means of exerting control over parts of their lives. Because most cosmetic procedures aren't covered by health insurance policies, there's ongoing competition between surgeons and prices are dropping, the number of procedures is likely to climb, as women see it as a competitive advantage. Whether you agree with it or not, America's obsession with beauty won't likely slow down in the coming years as technology advances, and American media continues to focus on their version of "beauty."