Disclosure: This post may contain affiliate links, meaning we get a commission if you decide to make a purchase through our links, at no cost to you. Please read our disclosure for more info.
Last Updated on July 9, 2017 by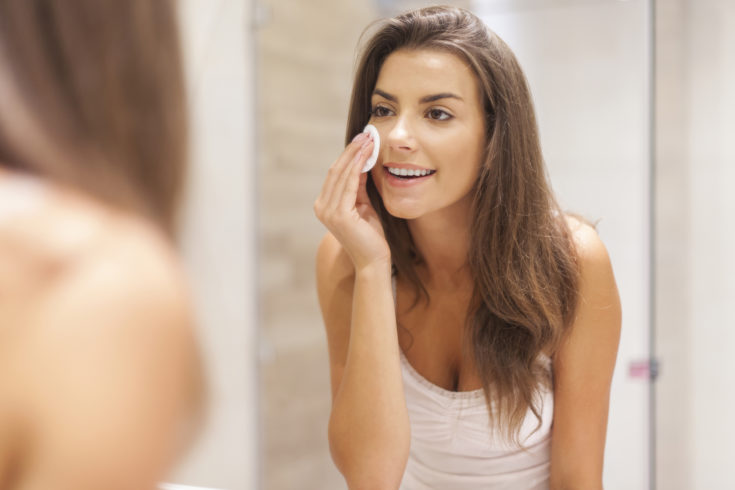 You must have heard of the popular process for a clean and healthy skin, cleanse, tone and Moisturize. We know exactly what cleanses and moisturizes do, but there seems to be a lot of controversial views on toning. Some say toning is a must, others its your decision if you want to tone or not but it is not required and still others say to skip toning altogether as it serves no purpose. So its no wonder you are left confused with a splitting head ache by the time you have to decide if to tone or skip it altogether.
So what is a skin toner?
Historically toners were very popular in the 20th century. It was used to stimulate and freshen the skin after cleansing. They also believed that skin toners could close pores (Now we know better, of course) eliminating the chance of causing blackheads and pimples. But these toners were usually not very complex formulations, they used simple ingredients like perfumed water, alcohol and borax.
In the present, toners are made out of much more complex ingredients and they are not limited to freshing skin after cleansing. In fact now most toners contain ingredients that reduce dehydration, Balances the PH level, Tightens pores, calm the skin and fade blemishes.
So do you need to incorporate a toner to your daily regime? Absolutely.
But listen it's important to choose a toner that suits your skin type. The reason you need to do this is because different skin types have different needs. So a toner that will work perfectly for someone with oily skin might dry out the skin of a person who has dry skin.
So when you choose a toner you must keep in mind the needs of your skin.
For oily skin/acne prone skin
Need : A toner that will control excess oil, reduce pore size and help to reduce those pesky acne.
Look for:
For toners which are refreshing and hydrating.
Stay away from products which contain alcohol and moisturizing content in it.
Look out for toners with ingredients like Salcyclic acid and AHAs if you have acne prone skin.
[amazon_link asins='B008EPPIQ4,B000P6W7C8′ template='CopyOf-ProductGrid' store='stealthestylewp-20′ marketplace='US' link_id='743314c6-64cc-11e7-b09f-b3e6bc1471ee']
For dry skin
Need: A toner that will hydrate and locks in moisture.
Look for:
For toner with nourishing oil and Moisturizers.
Stay far away from products that contain alcohol.
Look for toners which include ingredients like glycerin and hyaluronic acid which will help your skin to stay hydrated.
Toners based on Aloe and vitamin E are good too.
[amazon_link asins='B00949CII0,B00V81VQI0′ template='CopyOf-ProductGrid' store='stealthestylewp-20′ marketplace='US' link_id='82af6ca6-64cc-11e7-bfa6-0bc12b4fafe9′]
For combination skin
Need: A toner that will not only control oil and reduce the size of pores but also a toner that will suit both areas of your skin.
Look for:
A toner that will minimize your pores and maintain the skin's balance.
Finally some things to keep in mind:
Avoid alcohol based products at all cost.
[amazon_link asins='B06WLQ8M7G,B00OABVT1E' template='CopyOf-ProductGrid' store='stealthestylewp-20′ marketplace='US' link_id='a036ef0a-64cc-11e7-aeb4-6f3e30594a7a']
Conclusion
Your toner does not have to be expensive, some drug store brands will do perfectly.
When ever you buy a toner make sure to check the ingredients, once with natural ingredients are the best.
When applying toner use a clean cotton pad or spritz it on to your face.
Hopefully this post will convince you to start using a toner and help you to choose the best toner for your skin.
Visit Sass Queen for reviews, DIY, tips and tricks for all your skincare needs!
You can find Skin Toners for the best price on Amazon.