Disclosure: This post may contain affiliate links, meaning we get a commission if you decide to make a purchase through our links, at no cost to you. Please read our disclosure for more info.
Last Updated on July 6, 2017 by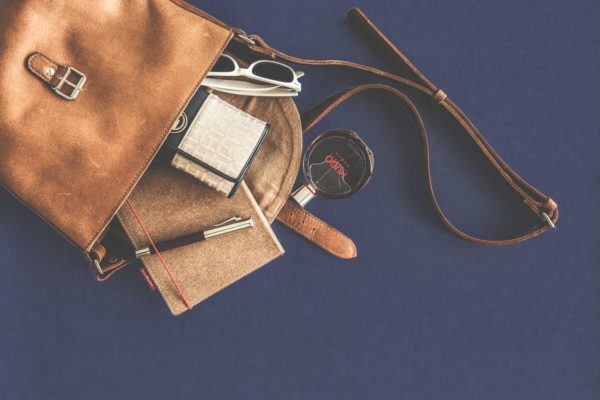 If you're always on the go, but don't want to tote your entire makeup bag around everywhere you go, consider putting a few "little helpers" in your purse to help you keep up your gorgeous look through the whole day. Here's a quick list of 5 mini beauty products to keep in your purse at all times that will keep that lovely look without taking up all the room in that cute little clutch of yours.
Blotting papers

When you brush on your makeup in the morning, you've got a beautiful, healthy glow. But around 2 o'clock in the afternoon, you might have more of a greasy glow that will make your face shiny. That means it's time to blot. These are small, thin papers that blot off oil and perspiration while not disturbing your makeup. Essential for oily skin or hot summer days. You can score fifty Clean & Clear blotting tissues for under $5. No sweat. Shop blotting tissues now!
[amazon_link asins='B00LSKWI88,B005JRT7A8′ template='CopyOf-ProductGrid' store='stealthestylewp-20′ marketplace='US' link_id='5a096d2f-012e-11e7-afa2-39e5bdf6be78′]
Tinted Lip Gloss

You might start your morning off with a nice coat of lipstick, but by mid-morning after your bagel and coffee, the color has probably smudged or faded. If you need a little moisture for your lips to get you through the day but don't want to settle for boring old chapstick, try a tinted gloss. A small tube of pretty shine is enough to give a boost to your complexion, and no teeny-bopper sparkles or grandma-pink need apply. Try Burt's Bees Lip Shimmer, for around $5. Moisturizing and yummy! Shop tinted lip gloss now!
[amazon_link asins='B004D04Q8U,B0163BMUFM' template='CopyOf-ProductGrid' store='stealthestylewp-20′ marketplace='US' link_id='653b7c22-012e-11e7-bffa-19a62855cfa8′]
Flossers

These are perfect for any girl on the go.  According to dentists, you should be flossing every day to make sure your gums don't get swollen or irritated. Whether you just ate corn on the cob for lunch, or you aren't the best at the morning flossing routine, these will be a lifesaver. They're around $3 and usually mint flavored, so no one will need to shrink back from your coffee-breath, nor will they have to take you aside and whisper, "You have a little something in your teeth." Yikes. Shop dental flossers now!
[amazon_link asins='B00PLUIR2C,B00N314CSO' template='CopyOf-ProductGrid' store='stealthestylewp-20′ marketplace='US' link_id='6ec4e450-012e-11e7-b152-17f1532e0f88′]
Mascara

If your mascara smudges throughout the day, or even if you're running late in the morning and don't have time to brush on a coat, this is the perfect secret weapon. Even if you have a tiny clutch, you can still squeeze in a mini tube of mascara. Get a mini-tube of good quality black mascara, perhaps by Clinique or Almay. Your lashes will be luscious and you won't resemble a raccoon by noon. Raccoons are never fabulous. Shop mascara now!
[amazon_link asins='B00C67E8NK,B00WGDEQT0′ template='CopyOf-ProductGrid' store='stealthestylewp-20′ marketplace='US' link_id='772731ce-012e-11e7-bc07-0bd2fd568e39′]
Tweezers

It's not nice to think of a spare hair here and there, but hey, it happens, so be prepared. Control those stray eyebrows, pluck that naughty strand on your upper lip and make sure they don't return. Trim brand makes a portable slant-tip pair with a case so you'll never be caught in a hairy situation. Although you might have it in your purse for eyebrow emergencies, it might also come in handy when you get an unexpected sliver. This tool will prepare you for anything!
You don't have to carry a huge duffel bag full of your beauty essentials, and you don't even need a chunky handbag to be prepared for a beauty emergency. Most brands produce "minis" of most of their products, and they can easily be found at beauty stores like Sephora, or even at the regular old grocery store. Be on the lookout for helpful minis to add to your beauty emergency kit and you'll be confident everywhere you go—with all the supplies any beauty needs to make it a great day. Shop tweezers now!
[amazon_link asins='B00Y2JPS70,B01LKZKM7Y' template='CopyOf-ProductGrid' store='stealthestylewp-20′ marketplace='US' link_id='828b258e-012e-11e7-8a79-59166935dcbd']
You can find Tweezers for the best price on Amazon.