Disclosure: This post may contain affiliate links, meaning we get a commission if you decide to make a purchase through our links, at no cost to you. Please read our disclosure for more info.
Last Updated on October 14, 2017 by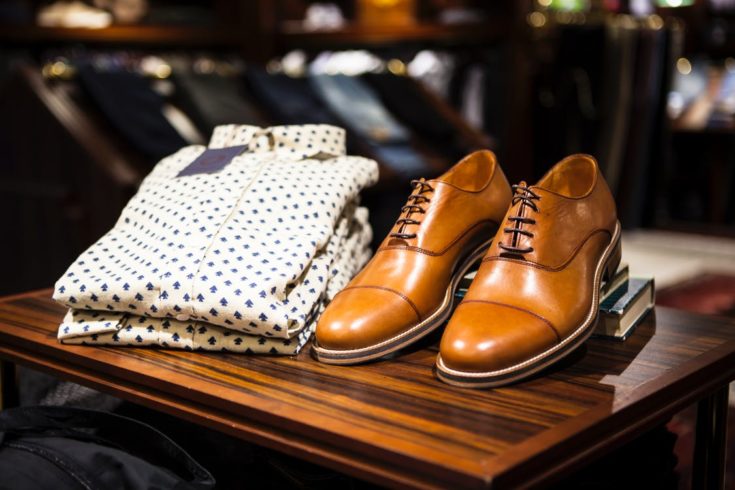 It is nearly impossible to turn your head or open a browser without coming face to face with women's fashion. We therefore often neglect the wonderful world of men's fashion! We are here to remedy that immediately. Read on, guys and gals who love guys, here are the 5 things every man should have in his wardrobe to help him look his best!
Solid Black Suit
Dressy events rarely come with a warning, and the proper attire is not a quick and cheap find. Dressing properly for nice occasions requires a perfectly fit and a high level of sophistication. Every man should therefore have on hand a tailored matching suit jacket and pants, a crip white collard shirt, a classic tie, and a pair of just-shiny-enough black dress shoes. The great thing about this ensemble is that it covers all of your bases. If some men are dressed in slacks and a blazer, you will make a positive statement without being ostentatious. If others are sporting full-blown tuxedos, you will still blend in flawlessly. Black and white are timeless for any occasion.
[amazon_link asins='B00421BJZI,B00BNR4MPS' template='CopyOf-ProductGrid' store='stealthestylewp-20′ marketplace='US' link_id='ee99d000-b110-11e7-b79d-5fa1c2f0bc1c']
Jeans and a Plain White T
Moving straight to the other end of the spectrum, there is nothing more attractive than a man sporting the perfect pair of jeans and a plain white t-shirt. Choose the cut, fit, and style of denim that best matches your personality, and you will enjoy yourself and exude casual confidence. The comfortable white t-shirt is the perfect canvas for sporting a new haircut, favorite accessory, or classic simplicity.
The Belt
Speaking of accessories, every man needs a few basic belt options. Belts are the perfect combination of fashion and functionality. Ratchet belts are great for simply keeping your pants up and maintaining the perfect level of tightness. Belts such as the Grip6 offer you a bit more options for making a fashion statement. Have one in brown, and one in black, and you are good to go for any outfit and occasion.
[amazon_link asins='B06XH8VQCJ,B017QT8P4U' template='CopyOf-ProductGrid' store='stealthestylewp-20′ marketplace='US' link_id='f925da1e-b110-11e7-8c53-611a97718294′]
The Great Hat Debate
Both men and admirers of men are always wondering when and if it is appropriate to wear hats. The short answer? It depends on the hat and the man. Some men do not look good or feel comfortable in hats of any kind. If this is you, do not force it, stick to sunglasses! Most men like to have their go-to, worn-in baseball cap. It provides shade, a reprieve from the hair care routine, and a subtle way to sport your favorite team or brand. For certain guys, baseball caps also double as a collecting hobby and excellent gift idea. It is also good to have a beanie on hand for cold weather. Find one that it is at once warm and not itchy, and you are set for when the need arises. If you are the hat over hair type of guy in general, fedoras and pork pie hats are currently trending and provide the pop you might be seeking for a night out or special occasion. If you are among the millions of men (or women, for that matter) who are unsure of current hat etiquette, here is helpful guide from Emily Post.
Your Go-To Button-Down
No matter what you wear on a daily basis, every man needs at least one well-fitting button down in a color that suits him that goes with any pair of pants. This is the perfect item to wear when you do not know what to hear, because it is simultaneously sophisticated and casual. Go with a print, but a subtle one, to avoid looking both washed out and overly flashy.
There you have it, gentlemen, the five pieces you should all have in your wardrobes and how to wear them. Never underestimate the importance of men's fashion. Never be caught unfashionable!