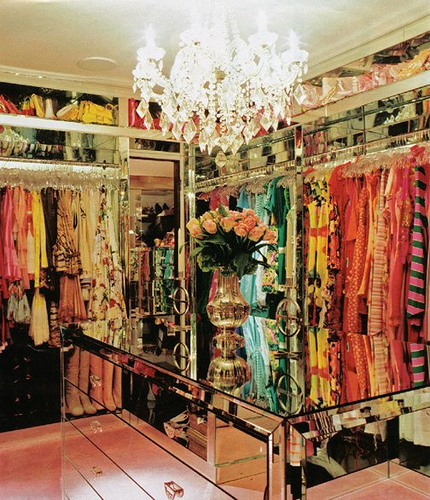 You've no doubt seen photos from the closets of your favorite celebrities. I myself have drooled over Paula Abdul's shoe racks (not to mention the island of accessories that looks like it came straight out of a boutique stocked with bags, belts, and sunglasses). And if you've ever had a glimpse of Lindsay Lohan's home interior you've no doubt noticed that she has an entire room devoted to racks of clothes and stacks of shoes (there are so many boxes that they have photos on them for quick reference). Many fabulously dressed celebs have shed light on their closet situation by allowing photographers in so that we, the adoring public, could catch a sneak peek at the dressing rooms they use. And here are just a few of the awesome amenities they have to help them sort their wardrobes.
Ladder. If you even have overhead space in your closet, it's probably a shady shelf near the ceiling that houses your luggage, a few old hat boxes, or any items that you need only on extremely infrequent occasions (your ball gown and tiara, for example). In short, you can go through the hassle of dragging in a chair or step-stool once in a blue moon to access this space. But celebs have big lives and big closets to match them. So some find it easier to have a library ladder on wheels so that they can easily reach the upper recesses of their closet space.
Lighting. Your cramped closet may need little more than a naked bulb (or ambient light from the bedroom) to illuminate the tiny interior. But celebrities dealing with an entire room full of clothing and accessories need a bit more in the way of lighting if they want to be able to see all of their garments and extras. For this reason, they may include all kinds of lighting options, from recessed cans in the ceiling, to under-cabinet lights for every shelf, to a set up like Big created for Carrie in the SATC movie (with backlit walls to illuminate every surface).
Walk-in jewelry box. Celebs might not have vaults of jewels like the Queen of England, but they still have plenty of accessories for use on both the runway and in their daily lives. So some might create a smaller walk-in space that is devoted entirely to their necklaces, earrings, rings, bracelets, and every other piece of bling they can use to embellish their fantastic wardrobes. This could just be the height of luxury when it comes to closet accommodations.
Remote control. Remember Cher's rotating closet and computerized outfit-selecting software from Clueless? This has got to be every celeb's dream considering how many freebies they get from designers looking to promote through the stars that sport their fashions.
Furnishings. Trying on outfit after outfit can be SO tiring! If they could, celebrities might include nature scenery and an IPE Adirondack chair to reduce the stress level associated with dressing for the press. Instead, many opt to set up a seating area complete with a fainting couch and tufted ottomans for them to rest in between costume changes.