Disclosure: This post may contain affiliate links, meaning we get a commission if you decide to make a purchase through our links, at no cost to you. Please read our disclosure for more info.
Last Updated on October 4, 2017 by
When it comes to making money, movies and fashion, they all seem to go together. So was the case for Australian designer, Lizzie Gardiner in 1999. She was the costume designer for the movie, The Adventures of Priscilla, Queen of the Desert. She decided that not only can you use money to buy fashion but you can use money to MAKE fashion.
[amazon_link asins='B00HYMIQGC,B004VJJGFG' template='CopyOf-ProductGrid' store='stealthestylewp-20′ marketplace='US' link_id='9dacc901-d7a9-11e6-bc9c-eb13ff1a26a5′]
This innovative idea resulted in a standout dress made entirely of credit cards. These were gold cards for American Express, to be exact. The dress and her other designs for the movie won Gardiner an Oscar nomination.
Political Fashion Statement
The movie, The Adventures of Priscilla, Queen of the Desert was an edgy, independent film about Australian drag queens. American Express was not quick to associate itself with a racy film such as this one but after the Oscar nomination, they had a change of heart.
They decided to send Gardiner 300 American Express Gold cards with her name on them. She used 254 of the cards and the dress has made Oscar history. It was the most talked about dress of the night. When Gardiner was asked about the design, she said she wanted to highlight the extravagance and unnecessary money spent on celebrity outfits.
Gardiner strung the cards together like chains. She chose gold cards because at the time, these cards were the status card to use. If the dress were remade today, it would probably be made out of platinum cards. She later auctioned the dress for $12,650 and all of the proceeds went to the American Foundation for Aids Research.
Gold is King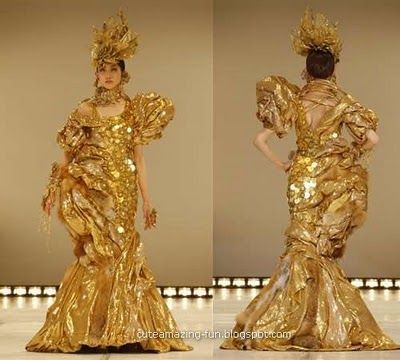 With the economy sluggish around the world, this may be the reason that the fashion students at Tokyo's Bunka Fashion College chose to use gold instead of money to create fashion.
The young designers took over 1,500 gold Austrian coins to make a dress and a couple of jackets. This was not clothing you want to throw on to run to the store because they weighed over 65 pounds and cost more than $230,000 which was the gold rate in 2007. With the economy as it is today and gold being valued much more highly, the clothing would be much more valuable.
A Picture Is Worth a Thousand Words Or Maybe Just $1!
Thought-provoking French designer Jean-Charles de Castelbajac decided to create a collection that featured a dress that looked like an American dollar bill. The only difference was that President Barack Obama's face replaced George Washington's. Many have drawn comparisons of the dress to Alice in Wonderland's Queen of Hearts and also have made comments on the cult of celebrity in America.
Play Money Dress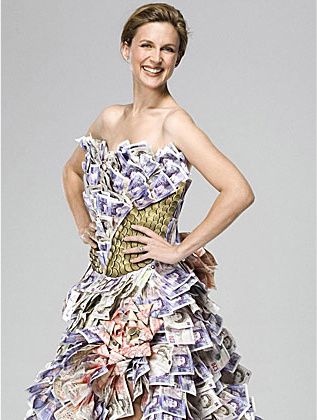 You may have seen Paris Hilton gallivanting about in a dress made of play money. Not to be outdone on the other side of the pond, there was a dress featured in The Credit Letter that was made out of British pound notes. Just be careful where you go in that dress. You may find it diminishing with each step!
If you want to try your hand at fashion and money, you can. It is possible to make items out of money or old credit cards. There are blogs that post in great detail the steps required to turn your unused credit cards in jewelry and even clothing. So, whether you want to make a political statement or you just like to be creative with money or cards, there is something for you out there.
With a little time and patience, you can fashion yourself an entire wardrobe made out of money.