Disclosure: This post may contain affiliate links, meaning we get a commission if you decide to make a purchase through our links, at no cost to you. Please read our disclosure for more info.
Last Updated on May 26, 2022 by Steal the Style
2020 has gotten off to a rough start for fashion designers, but that doesn't mean we don't get to see our favorite male fashion models at all. Even if the biggest fashion shows of the years are canceled or postponed until the Coronavirus crisis is no longer a threat, designers have still found creative ways to advertise their collections.
And if you expected male models to bring just dashing good looks to the table, think again. 2020 has been the year of creative waves in the fashion world, and, as you will see from the examples below, the definition of what it means to be a model has changed considerably. Apart from collaborating with male models, the world's most influential designers were also joined by actors and musicians in innovative campaigns that also touch on social issues and pop culture trends.
Lennon Gallagher and Kailand Morris for Represent
The true spirit of Rock n roll is back in the Represent Spring/Summer 2020 campaign. The British fashion label collaborated with Lennon Gallagher and Kailand Morris, the sons of Liam Gallagher and Stevie Wonder, to advertise their latest classic denim line. This time around, Represent didn't focus on biker culture, like in previous collections. Instead, they visited the Rockfield Recording Studio in Wales, which is one of the most iconic locations in the music industry. Lennon Gallagher and Kailand Morris were joined by model Ed Krause in creating a fictional band. The Spring/Summer 2020 collection from Represent features asymmetrical cargo shirts, edgy graphic tees, and tight-fitting, distressed jeans. You can see the collection in a short film by Santiago Arbelaez, under the creative direction of George and Mike Heaton.
Rami Malek for Yves Saint Laurent
You know Rami Malek to be a talented actor and performer, but the Mr. Robot star also happens to be a huge inspiration for French fashion house Yves Saint Laurent. The Oscar-winning Egyptian-American actor was chosen by YSL as the face of their spring 2020 men's campaign, and the results were stunning. The campaign features a series of both black and white and color photos shot by David Sims, where Malek is rocking slim-cut trousers, sequined shirts, silk boleros, and military jackets similar to the ones that Freddie Mercury used to wear. In fact, the entire collection is an ode to the legendary Queen lead singer, whom Rami Malek portrayed in the critically-acclaimed Bohemian Rhapsody. 
David Gandy for Dolce & Gabbana Eyewear
In a male fashion industry dominated by slim models, David Gandy's muscular build definitely stands out, and it's precisely this that made Italian fashion house Dolce & Gabbana choose him for the Spring 2020 Eyewear collection. With a history that started more than two decades ago, the D&G eyewear line is an absolute classic and features stylish designs that accurately depict the Italian passion for fashion. In the latest campaign, you can see David Gandy in glasses by D&G, set against a beautiful Sicilian background, with mosaics, narrow paved roads, and simple Sicilian curtains. It's not the first time the British model collaborates with Dolce & Gabbana. In 2007, he was also the face of the iconic fragrance Light Blue.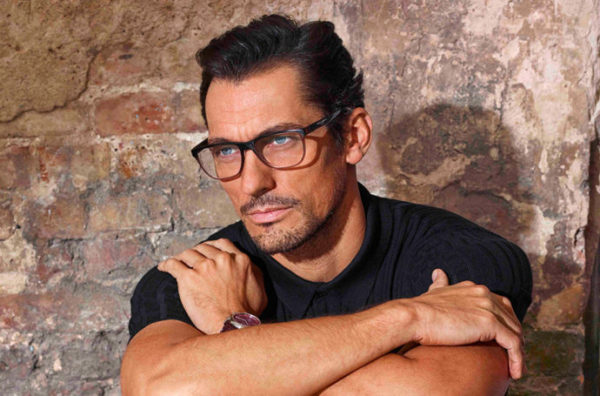 Lucky Blue Smith for Brandon Maxwell
With over 3 million followers, Lucky Blue Smith is one of the most influential Instagram models and perhaps the most accurate representation of the Millennial male model generation. He's also an accomplished artist, having formed a band with his three sisters, The Atomics, in 2009. When American fashion designer Brandon Maxwell debuted his first menswear collection for Spring/Summer 2020, Lucky Blue Smith stole the show wearing a classic black coat under a full black suit.
Sean O'Pry for Beymen
Supermodel Sean O'Pry is as successful as he is mysterious, and this aura of mystery picked up perfectly in his latest campaign for luxury Turkish fashion house Beymen. In the ads for the Summer 2020 Collection, we can see Sean O'Pry on a sandy beach, wearing some of the fashion line's key pieces. Styling was done by Kaner Kivanc, and the focus falls on pastel color palettes, flowy fabrics, and nature-inspired patterns.
Mahershala Ali for Zegna
Ermenegildo Zegna's Spring 2020 campaign dropped in late January and asked modern fashion lovers an important question: what does it mean to be a man today? The answer isn't that simple, and that's precisely why they launched a beautiful campaign, #WHATMAKESAMAN, discussing the diverse interpretations of masculinity. The 110-year old tailoring brand partnered with Academy-Award winner Mahershala Ali for a photoshoot and accompanying video challenging the traditional notion of masculinity, and encouraging men to discover their own interpretation of manhood, even if it goes against the rules. With this campaign, Zegna wanted to underscore that masculinity doesn't mean to be macho. It means having the strength to show vulnerability, express yourself, be mindful of other people's feelings, and choose clothing that speaks for who you are.
The campaign was shot in an industrial setting, which might seem surprising, considering the image that tailored suits have, but that was exactly the message. To challenge traditional notions and position the classic brand in the current context. It's also a nod to the label's sustainability approach: the spring-summer 2020 collection was made from 50% recycled fabrics, which is a first in the world of luxury fashion.
Jon Kortajarena in Bvlgari watches
Spanish supermodel Jon Kortajarena was once again chosen by Bvlgari for their Summer 2020 collection. Shot by photographer Inma Fiuza, the campaign shows Kortajarena on an Ibiza beach, wearing a timeless watch. Jon Kortajarena is the global watch ambassador for the Italian jewelry house, and, over the years, he modeled many designs for them, including the Octo Finissimo Automatic, which has the thinnest automatic movement in the world. He was also the image of Bvlgari's male fragrance and their Save the Children ambassador.