Diet Dr Pepper
, one of my favorite diet soda choices, will be kicking off a new sweepstakes on March 4th, 2013 where you will have a chance to win one of 30 amazing one-of-a-kind prizes.  So not only am a huge fan of Diet Dr Pepper, I'm also a big fan of entering sweepstakes and contests.  And I'm an even bigger fan of one-of-a-kind style!  The following celebrity styles reflect my personal style (now if I just had each of their fame and fortunes):
Jessica Alba's simple style of a white tee, army jacket, peach scarf, rolled-up flowered jeans and nude ballet flats is the perfect attire when going out and about running errands.
Kate Beckinsale's sophisticated casual style of rolled-up jeans (is the rolled-up look coming back in style?) with a white tee, floral jacket and high-heel black booties is the perfect attire for a lunch date with girlfriends.  Seeing her makes me want to call my girlfriends and suggest we gossip over strawberry daiquiris!
Alessandra Ambrosio is looking sleek and sexy in a simple tie-dyed maxi dress while pushing her son, Noah in a baby stroller.  I would definitely consider wearing this dress to a summer wedding or on a date at the beach.
So I know how to steal celebrity signature, and already have long brunette hair like all of the above, how do I replicate their skinny physiques?!  Oh, I guess that would involve diet and exercise.  Isn't Diet Dr Pepper enough?!  A girl can wish.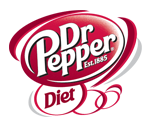 With delicious one of a kind taste and zero calories, Diet Dr Pepper is as unique as you are. We know it's a long road to get to who we're meant to be. Along the way, we make choices, we make mistakes, we get up, and we keep going. And like an amazing work of art, we become one of a kind. At Dr Pepper, we celebrate all that makes us an original, from your unique style to adventurous spirit. To check out more one of a kind stories, watch our films at www.youtube.com/drpeppervideos.
Disclosure: Compensation was provided by Diet Dr Pepper via Glam Media.  The opinions expressed herein are those of the author and are not indicative of the opinions or positions of Diet Dr Pepper.