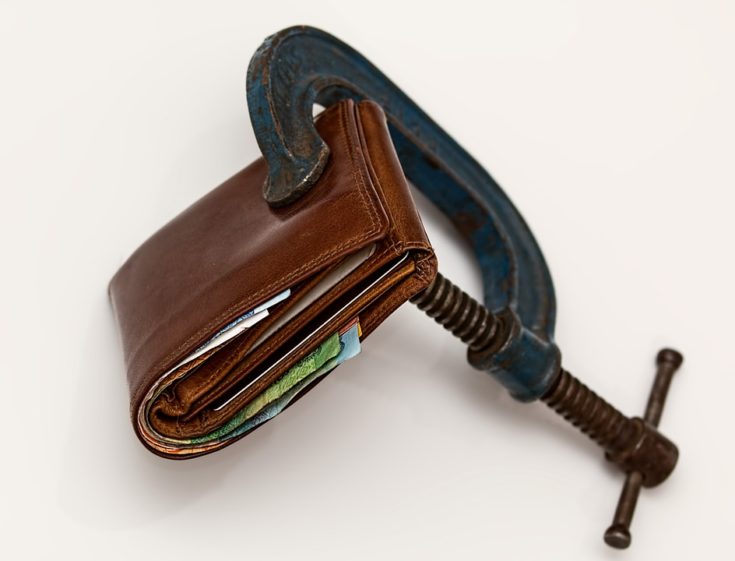 Fat wallets used to be coveted. They showed that the owner was fabulously wealthy, with more than enough money to burn. With today's focus on status and appearances, surely that standard would continue with time.
The truth is, surprisingly, the opposite.
Reasons for the Rise of Slim Wallets
Cashless Options Are Being Used More Often Than Bills
More people pay with cashless options than ever before. Whether it's debit or credit, these plastic cards have been a close companion of shoppers across America—so much that 80% of all total spending in the United States has been cashless. So that massive wad of Jacksons, Benjamins, or Hamiltons, is as unfashionable as the powdered wigs that were around in the eras those gentlemen were alive.
Minimalism Is More Trendy Than Ever
In the past it was also necessary to carry a lot of pieces of information on the day-to-day, such as business cards or phone numbers scribbled on whatever scraps of paper that happened to be handy when the contact was shared. But today, in the age of sleek lines and minimalist design, a slimmer design is where it's at. Phone numbers can be stored with a few taps on a screen, and with the decline of cash transactions, that extra cash pocket in the wallet is not quite as important as it used to be.
Slim Wallets Are Fashion-Friendly
Of course, with an everyday accessory, it's got to look good, and it's got to be secure enough to protect the owner when they're out and about. Since slim wallets are getting so popular there are options for that, including ones with RFID protection, so security doesn't have to be sacrificed in the quest for style. Modern, slim, wallets can carry as much—or as little—information as needed, and are of course far more comfortable than having a leather-wrapped brick sitting in the back pocket. Along with that, skinny jeans are still all-the-rage today. So it's even better that these new minimalist options are really taking off, since that wallet no longer has to ruin the smooth lines of a pant-leg, and so it doesn't have to be stored in the back pocket to hide the unsightly bulge from view.
Designs and materials are widely varied, from embossed classic leather to waterproof synthetics. So whether it's in the pocket of a white-collar businessperson, or in the pocket of a hiking and camping fanatic, there's a thin wallet for every lifestyle.
Advantages of Slim Wallets
Security
It used to be that a wallet bulge in the back pocket was like a target for a thief to get to. However, since slim wallets are smaller, they can be stored in the front pocket rather than the back. This of course leads to more security, since they're harder for a pickpocket to get to. A thief wouldn't even be able to see where it is that the wallet is residing since there's no raise in the fabric for them to access. The benefits of a slim wallet seem to be unending, when it comes to looks and security.
That's not even mentioning the health effects.
No Discomfort When Sitting
Sitting on a back-pocket wallet can cause a slight misalignment in posture which can cause pressure on what's called the "sciatic nerve". All that pressure can lead to an unfortunate amount of back pain over time, if it's not corrected, so it's best to have the wallet sitting in the front pocket. Without a wallet in the back pocket, then, slim wallets don't even have to be removed before sitting down, so no awkward fumbling or shifting is required.
No Clutter
Thanks to smartphones, wallet space is easier than ever to manage. Family photos, business cards, and phone numbers, can all be stored away with a few button presses. The wallet only needs to carry whatever you really need with you on a daily basis. Whether it's debit, credit, or the loyalty card for that fabulous submarine sandwich shop down the corner, thin wallets have perfect proportions and slots to carry all the essentials.
Conclusion
A fat wallet is a thing of the past. The rocket-like rise of cashless options means paper cash doesn't need to be carried around, which means less space is required. Since it's no longer required to carry so much stuff every day, thanks to the benefits of modern technology, they can get smaller. They can fit in the front pocket, rather than the back, leading to nicer lines in the pocket, and greater security from thieves. With so many material and design options available, they can fit any lifestyle. It's no wonder slim wallets are getting so popular, when all of these factors are taken into account. The modern, minimalist, trend has finally come to wallets, and thin is in.