Disclosure: This post may contain affiliate links, meaning we get a commission if you decide to make a purchase through our links, at no cost to you. Please read our disclosure for more info.
Last Updated on June 19, 2022 by Steal the Style
We all love fashion, trends, stylish clothes and shoes, and the beautiful models on the runway. However, little is known of the fact that organizing a fashion show event is definitely a difficult task. There are numerous things which you need to plan and take care of in order for the event to be a real success which will be on the first pages of the most famous fashion magazines. Read below the most essential aspects which you should keep in mind in order to organize a fantastic fashion event which every fashion lover would wish to attend.
Start Early Ahead
No matter what type of event you are planning, time is definitely something which you should be extremely considerate about. Once you decide a date for your event, you need to make sure that you have enough time to plan and organize everything.
Create a Budget for the Event
Having well-developed financial skills is extremely important when organizing a large and event such as a fashion show. Apart from the fact that you need to create a budget to know exactly how much money you can afford to invest for your event and all the expenses which you are going to have to pay for in order to ensure all the necessary details, you also need to know how to stick to the budget and avoid running out of money in the middle of the process of planning the fashion show.
Create Your Team and Delegate Tasks
You should know right from the beginning that there are going to be numerous essential tasks to complete which are a must for the fashion show to be a real success, which means that you are definitely going to need some help from a lot of people. You need to create a team composed of professionals who will make sure that each task will be completed until the beginning of the event. Apart from the fact that you are going to need people who will help you with decorating the location of the event, provide foods and drinks, and install the necessary equipment, you are also going to need professionals such as makeup artists and hairstylists who will prepare the models to shine on the night of the event once they step on the stage.
Choose the Right Location
The location of the event is extremely important because it will have a big impact on the success of the event. Apart from the fact that you need to consider choosing a location which has a spacious stage for the models to comfortably walk and present the clothes which you have created, you also need to make sure that is a location easy to reach by all the guests who are going to attend your event. Also, make sure that the location which you are going to choose is spacious enough for the number of guests which you are planning to invite at your event and the necessary equipment which you are going to use for the runway show.
Choose Your Models Carefully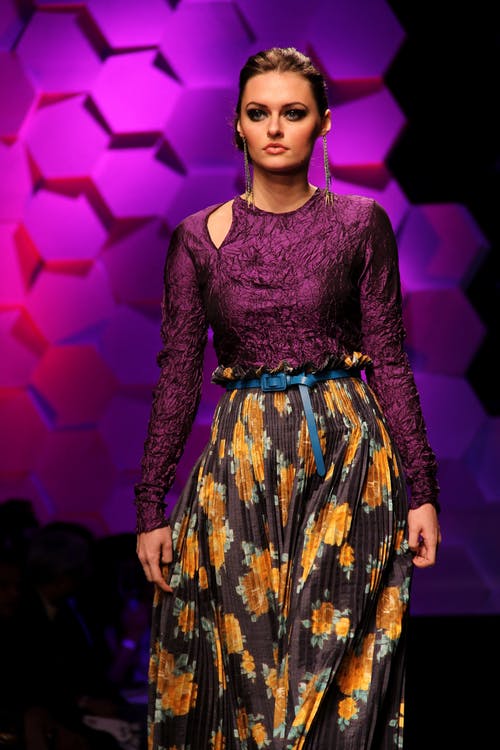 Beautiful girls who are queens once they step on the stage looking glamorous are definitely one of the most important aspects of the fashion show. However, you need to make sure that you choose your models carefully with different physical features which are going to make your fashion show be a different one compared with the others. Promoting diversity and beauty as it is in various forms, shapes, eye colors or other physical features is going to bring a lot of popularity to your event. Surely, the stereotypical model figure is beautiful, but if you want the fashion world to notice you, you need to be creative and different.
Do Not Forget About the Spotlights
Not only that you need to treat the models as the stars who they are when they are on the runway presenting your creations, but the guests at your event should also feel like they are important stars. Spotlights are incredibly important for you to showcase the most essential details of your fashion show. Hire lighting specialists who know how to create a real show only by working with lights. When thinking about a fashion show, we all imagine the numerous flashes from the cameras of the professional photographers immortalizing the best postures of the models and the stylish creations of the designer. So, you definitely need to remember to hire numerous professional photographers who are going to take spectacular pictures at your event which you are later going to use for advertising your clothing line.
Use Technology
Since we live in the era of technology where we all use the internet, apps, and the most up-to-date gadgets to make our everyday tasks easier, you also need to use the technology to make the process of planning your fashion event more efficient. Apart from using technology and the internet to advertise your event, there are also numerous apps which you could use to create a list of the tasks which you need to complete, event ticketing software for your guests to see the available seats and choose where they want to sit to make it easier for you to sell the tickets for your event, and use big screens placed on the both sides of the catwalk to give the audience a close and personal view on the clothing worn by the models.
Marketing Is the Key to Success
A fashion show is definitely an event which needs to make a big fuss in the world of fashion and trends. You definitely wish for the most famous fashion critics, bloggers, and models to hear about your event and be part of it as special guests. Apart from the fact that by having famous people from the fashion world attending your event will help you gain a lot of popularity, it is also a great opportunity for you to network with people who might help you in the future to achieve success. So, advertising your event is a must. Create a strong marketing strategy by combining both offline and online marketing to make sure that everyone will hear about your event.