Disclosure: This post may contain affiliate links, meaning we get a commission if you decide to make a purchase through our links, at no cost to you. Please read our disclosure for more info.
Last Updated on March 17, 2022 by Steal the Style
You've seen women strutting down the street, in magazines or on television with a head of perfectly coiffed red hair.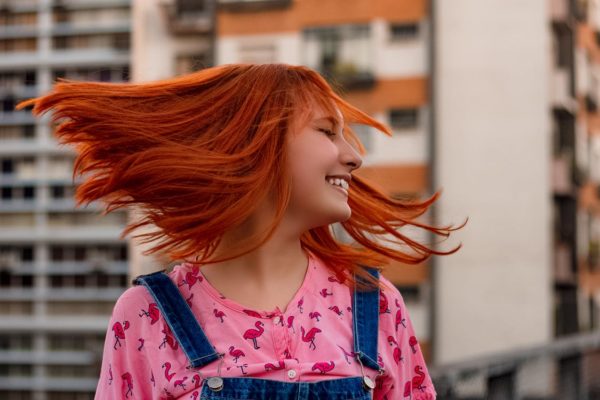 You might not know that the majority of these women, including one lady famous for her red tresses, have had their hair expertly tinted that enviable shade of crimson. Actress Cynthia Nixon who portrayed the workaholic Miranda Hobbs on "Sex and the City" is a natural blonde who dyed her hair specifically for the series.
If you aren't sure which shade of red is right for your skin tone or eye color; don't take a chance. Instead, do you research to avoid looking like Bozo the Clown.
Determine Your Skin Tone
Examine the skin on your hands and face in particular to determine if you have cool or warm skin tones. Individuals with cool skin tones have hints of olive, dark brown or pink in their skin. If your skin features gold, peach or yellow undertones, then you have a warm skin tone. If you're having trouble figuring out your exact skin tone, contact a professional and make sure that you're viewing your skin under natural light. Artificial light casts a yellow tone on your skin that can confuse your results.
The Perfect Red for Cool Skin Tones
Finding the ideal shade for cool skin tones is a tricky business, especially if you're moving on from naturally blond hair. If this is the case, transition subtly by first sporting a strawberry blond color to see if you can pull off reds at all.
Once this is established and you want to go further, stick with reds that have a pink or bluish base. These hues will accentuate the natural bluish and pink tones in your skin nicely. Do yourself a favor and steer clear of "warm" red colors, including copper and bronze-based hues. These shades clash with your naturally cool skin and will make you appear sallow and washed out. Here's one last piece of good news: if you want to dye your hair a wild shade of bluish or vibrant red, go ahead because your cool skin tone will pull this look off. These colors don't look organic, but if you're into looking out-of-the-ordinary, go for it.
The Perfect Red for Warm Skin Tones
"Natural" is the word to remember if your skin features warm undertones. Light shades of auburn are flattering for many warm skin toned women and are a perfect choice if you're new to red hair.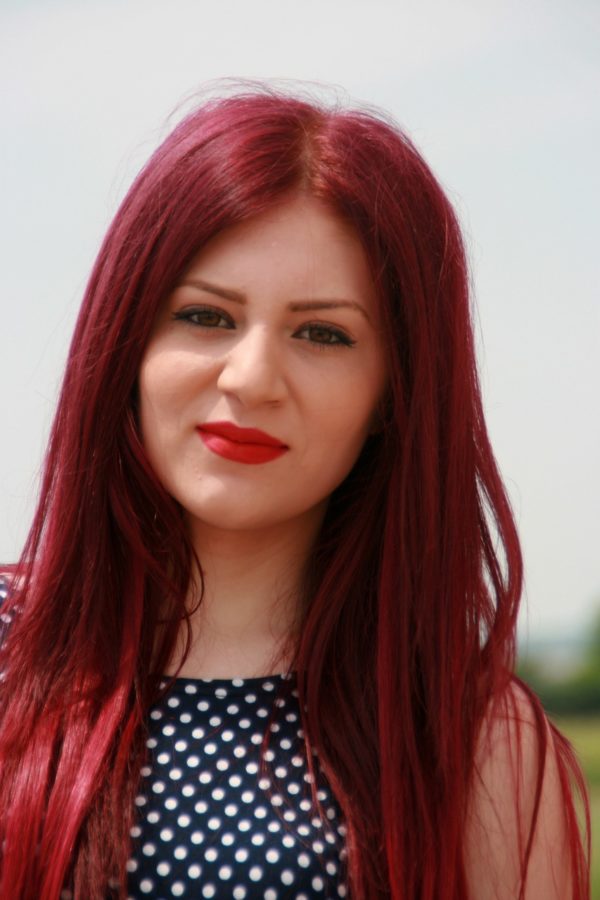 Shades of mahogany, medium-reddish brown or anything that features a golden base are ideal for warm skin tones because these shades make your naturally peach and yellow-tinted skin pop. Steer clear of copper or shades of light orange-reds. These colors are too bright and will clash with your warmer skin tones. If you're looking to add subtle red highlights to your naturally brown or dark brown hair, ask your colorist to incorporate lowlights that are a slightly darker shade of red than your present color.
Red and Your Eye Color
Eye color and skin tone generally go hand and hand, making it an important consideration when choosing the shade of red that is right for you. Hair color that features warmer red tones works best for people with green, brown or hazel eyes because of their peepers' natural yellow undertones. People sporting blue or gray eyes can pull off cooler-toned shades of red.
If you're blessed with a naturally light skin tone and bright blue eyes, go ahead and dye your hair fire engine red. You can definitely pull off this bold look.
Red Hair and Makeup
Now that you've found your ideal shade of red, it's time to look for new makeup that accentuates your bold color choice. Choose a foundation that matches your natural skin tone, but steer clear of products that contain a pink or red base. Your new red hair color has already warmed up your skin, and going too pink will give your face an unflattering reddish tone. Stick to shades of pink, coral and peach for your blush and lip color. Contrary to what you might have heard or read, these shades will accentuate your new red hair beautifully. Redheads have the ability to pull off many different eye shadow colors, so experiment to determine which shades look best on you. If you're unsure where to start, try plum, moss green, hazel, bronze, taupe and violet.
Keep the Red Alive
Be prepared to spend extra time, and money, to maintain your newly-dyed red hair. Red is notorious for fading fast because the red colorant molecules are larger than any other shade, making it difficult for the hair shaft to hold onto the color effectively. To combat this unfortunate fact, make sure that your hair is as healthy as possible before the first drop of dye touches your locks. This includes having your hair trimmed to eliminate any fried split ends. Wash your hair with cool water and a mild shampoo less frequently, and use a color booster every two weeks to maintain a healthy glow. Wear a hat or wrap your red tresses in a scarf before heading outside, as the sun fades this color very quickly.
You can find Red Hair Color for the best price on Amazon.
Once you have that perfect shade of red, flaunt those gorgeous locks and enjoy all the attention you get! If you want to see what your hair will look like before changing its color try some free virtual hairstyles!