Disclosure: This post may contain affiliate links, meaning we get a commission if you decide to make a purchase through our links, at no cost to you. Please read our disclosure for more info.
Last Updated on October 14, 2012 by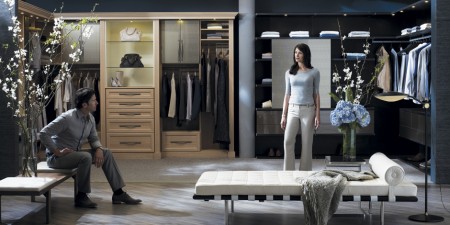 In the age of the big box store, there is an exclamation that is heard all too often during home tours:
"I have that exact same closet!"
While they do promise convenience and a quick fix, big box stores force you to compromise a bit of the vision that you have of your ideal home. From the exterior style to the interior function, you're never able to get exactly what you want, leaving your home susceptible to disorganization and lacking in the flair department.
If you've been feeling the negative effects of clutter, and are hoping to cut down on those time-consuming and frustrating romps through piles of items, but want to do so in a stylish manner that demonstrates your eye for good design, going the custom closets route is the only way.
On a functional level, custom closets can go a long way towards saving you time and making your home feel more efficient. Giving your bedroom a closet that you've played a hand in designing will work wonders for your wardrobe. With a layout that makes sense for the items you're hoping to store, you'll know exactly where to turn in the morning when you're pressed to get out the door. If you've got a three-sport athlete living under your roof, then you know their changing demands also put undue stress on your storage areas. With elevated shelves, extra hanger rods, and mounted hooks and baskets, you'll be able to arrange his or her wardrobe by season, thereby eliminating those moments where you find the contents of a closed poured out into the hallway.
Stylistically speaking, there is no better way to cut down on organization while boosting your home's visual appeal than by adding custom closets. You've gone through color palettes, selected the shade of the blinds, and assembled a collection of various furniture tapestries over the years–why suddenly cut corners on the style of your closets? Having closets customized allows you to guarantee a congruent stylistic fit with the rest of your home. As much as we'd like to believe that a lime green closet could work in a rustic living room, it will stick out like a sore thumb.
Dictating the type of hardware, the wood grains, and the color of your custom closets will be an empowering process. You'll satisfy your desire to give your home a personal-to-you feel while also complementing the work you've already done.
As you walk through your home, pointing out various elements of your design choices and telling quick stories of how they came to be, you'll be able to stop at your custom closets and say that you truly had a hand in your home's organizational success.