Disclosure: This post may contain affiliate links, meaning we get a commission if you decide to make a purchase through our links, at no cost to you. Please read our disclosure for more info.
Last Updated on May 26, 2022 by Steal the Style
The beautiful Queen B transformation, from the real Destiny's Child to the heart winning singer Beyoncé Knowles and then ultimately our favorite style diva had us awestricken. Lady B is not just winning at what she loves doing the most, i.e. singing but is stealing the show everywhere she goes with her dazzling style. There is no denying the fact that Beyoncé, a mother of adorable Blue Ivy and wife of the biggest hip-hop mogul, is perfection personified and a true inspiration for many.
Let's have a look at the ever glamorous style of the singing sensation and fashion icon Beyoncé. These are some the look which made our hearts miss a beat. As the ultimate music and fashion sensation, B is always dressed to impress and has never failed to get the attention of people with a passion for fashion.
Laced Perfection
https://www.pinterest.com/pin/94294185922078609/
At the 56th Annual Grammy awards red carpet there was this beauteous B draped in an alluring sheer white gown. The Michael Costello lace dress with Lorraine Schwartz jewelry and Christian Louboutin shoes were enough to cast their spell. Queen B glammed up her attire and everything with bold red lip color giving this look a perfection plus.
Beyoncé Bling
https://www.pinterest.com/pin/189151253074196408/
We can't decide whether it's this striking dress or Beyoncé herself which shines more. At the 2014 Brit awards Beyoncé sparkled in this dazzling teal Vrettos Vrettakos gown. The sheer sleeves and the statement earrings took Beyoncé's bling to a whole new level. If you closely see her entire look there is nothing, not even a thread that looks out of place. From her hair, dress to her accessories there is absolutely nothing which does not go along with her look.
All Black Everything
https://www.pinterest.com/pin/436497388859107628/
Beyoncé gave the Little Black dress a new definition in this Mosaic black Tom Ford dress. In 2013 as the goddess arrives at the official release party of her album left everyone spell bound. This Tom Ford dress from spring/summer 2014 collection looked even more stunning on her. The way she carried this mini dress with matching mosaic over the knee boots, took us to the good old times of single ladies.
Drop Dead Gorgeous
https://www.pinterest.com/pin/557320522611139847/
These are the words coming out of every mouth as they saw Queen gracing the 2013 Met Gala—yes, DROP DEAD GORGEOUS! This Givenchy dress stole hearts as soon as it glamorized the red carpet. The sheer black perfection was nothing short of real show stopper. This dream come true kind of dress and the way Beyoncé carried it with such a classy charm that it became the talk of many newspapers and fashion forward people. Wish we all could put a ring on this gorgeous lady for we like her very much.
Winning Again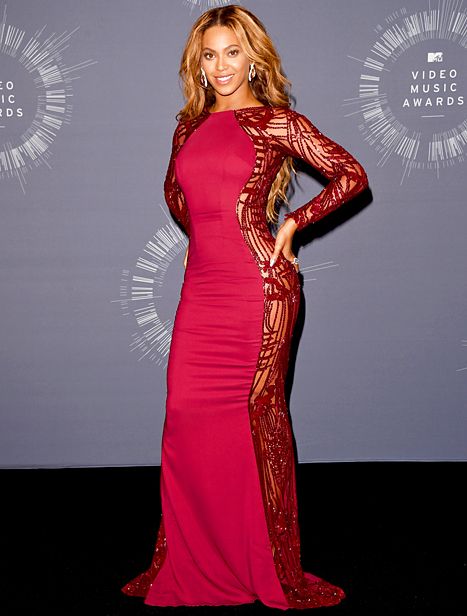 https://www.pinterest.com/pin/141370875778726447/
Not just she stole the show with her mind blowing performance but won our hearts with her three flawlessly captivating looks. However, all three gave us some real fashion moments but let's talk about this Zuhair Murad gown. The gorgeous silk gown in maroon with embellished sleeves and sides accentuated Queen B's curves and gave her a more figure flattering look. The dress from Zuhair Murad's 2014 winter collection was as usually perfectly carried and well accessorized.
While still drooling over these looks we got our eyes and ears on more from Beyoncé, both in terms of music and her to-die-for dressing.