Disclosure: This post may contain affiliate links, meaning we get a commission if you decide to make a purchase through our links, at no cost to you. Please read our disclosure for more info.
Last Updated on December 30, 2020 by Steal the Style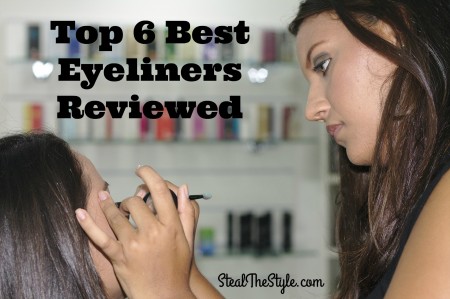 Any woman knows that finding the best eyeliners usually starts out with a quick little Google search and then slowly spirals down into hours of online detective work, researching articles and watching dozens of YouTube videos. Why does picking out the top eyeliner need to be so hard? For one, there are too many options for our consumer hearts to take. And two, how do we know we are going to get the best bang for our buck? Instead of just winging it, Reviews.com has put together a list of the top six eyeliners, along with a comprehensive guide to help you choose the perfect one for you.
Reviews.com decided that enough was enough and it was time to draw the line. They spent over 30 hours going through research articles and reviewed 70 different eyeliners to find the ultimate best. They took into account different types of eyeliners, including liquid, pencil and gel, even incorporating waterproof and organic brands.  To make their research even more superior, they consulted with a chemist, a formulation expert, and a makeup artist. Basically, they did all this hard work so we don't have to!
Here is the list of the top six best eyeliners:
After all of their investigation work, they found that Urban Decay's 24/7 Glide-On Eye Pencil beat out the rest of the competition because of it's capability to be worn all day (and even into the night) without smudging, smooth application, and bright pigmentation.  
Find your favorite eyeliner for the best price on Amazon!
Can't afford makeup? Buy cosmetics now, pay later!