Disclosure: This post may contain affiliate links, meaning we get a commission if you decide to make a purchase through our links, at no cost to you. Please read our disclosure for more info.
Last Updated on May 19, 2019 by
Spring is the perfect time of the year for a garden themed wedding. The season is already in full swing, so you have got to act quickly.
Read these ideas and make your dream wedding come true.
Colours
The best thing about organizing a wedding in your garden is that nature has already done half of the decorating work for you. Brides can choose their favorite colour palette and they can hardly go wrong with any pick. However, keeping to floral and earthy shades will fit in perfectly in the surrounding. Think soft peach, pale pink, warm yellow, etc.
The Ceremony
Flower arches have become synonymous with garden themed weddings. But imagine a slightly different scene: you walking down the petal-strewn aisle and he waiting at the other end in front of a blooming flower wall. These super-pretty details can add tons of romance to your ceremony. Whether you go for a one-colour wall or decide to mix in various shades of blooms, just make sure the flowers are bigger, like dahlias or gerbera daisies. They create a much stronger effect.
Bridal Attire
The one word that describes this style of wedding is – easy-going. This means that you are allowed to break the bonds with tradition and try something completely different. Instead of a rigid white wedding dress, choose a more relaxed sky blue frock. Incorporate natural elements in your attire as well.
Brides are not mistaken when going with pure white flower girl dresses as they can be adorned with any flowers easily. With handcrafted wreaths of natural flowers in their hair, they will look like little forest fairies.
The Details
Use whatever you can already find at the scene. This includes incorporating some more flowers (either fresh or dry), tree bark, fruits, pinecones, acorns, leaves, tree trunk place mats, etc. If you are aiming at a vintage-style reception, you can freely add other non-natural elements, such as jugs, vases, old picture frames, or milk bottles, and make the place come to life.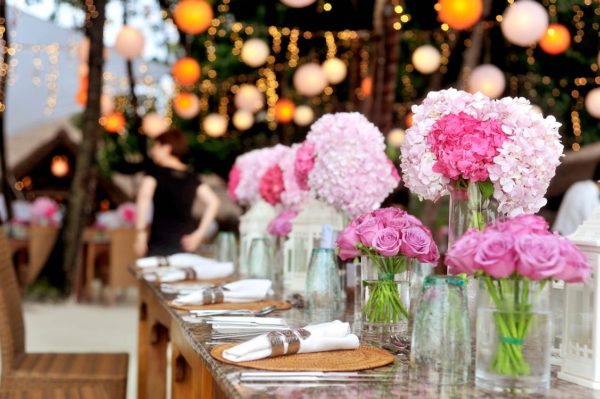 Some details are just perfect for an outdoor wedding. Helium filled balloons are one such detail. Scatter them around the garden and you will really feel like you were on cloud nine. Just remember to tie a weight at the end so the balloons would not float away. Artificial butterflies would also add a nice whimsical touch to the whole thing.
The Menu
Here, we have only one suggestion for you – a barbeque menu. Barbeque is the ultimate garden food that your guests will love. To make it a bit classier, include dishes like tuna steak and teriyaki salmon. Serve an aperitif of elderflower sparkler.
The Cake
Tie in some edible flower elements, like sugar flowers on your cake. Instead of traditional wedding cake decoration, you can also dress your cake with fresh flowers. Or fresh fruits like grapes, figs or strawberries.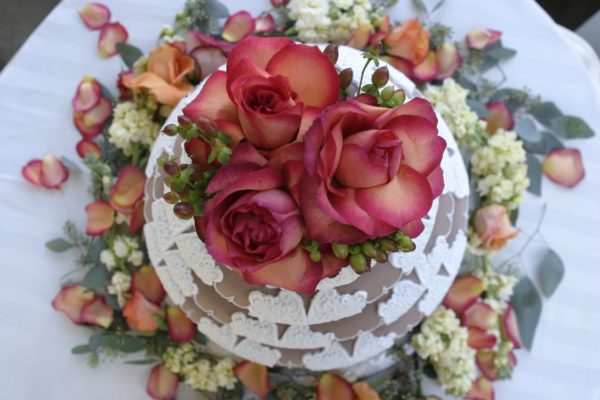 The current trend is also to have a table set with sweets other than the cake. Brownie pops and donuts are an excellent choice for this kind of reception.
Lighting
Lighting creates a mood and the only mood you want on your big day is the romantic one.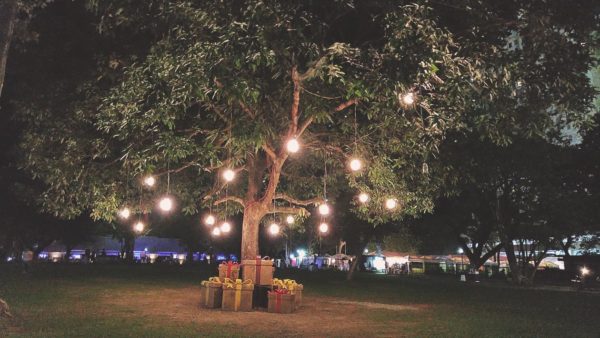 This is easily achieved with torches, lampions, candles, and lanterns.
Entertainment
Some wedding guests do not like to dance. At an indoor wedding, this might be a problem. At a garden wedding, you just need a big enough lawn. The latest trend in garden weddings are lawn games, such as coconut shy and, why not – croquet. Have the bride's party on one side, and the groom's on the other. Just make sure it does not get too competitive.
How are your wedding plans going? Will these ideas help you?