Disclosure: This post may contain affiliate links, meaning we get a commission if you decide to make a purchase through our links, at no cost to you. Please read our disclosure for more info.
Last Updated on July 30, 2019 by
Winter is here, and with the changing of the seasons, allergies often come as well.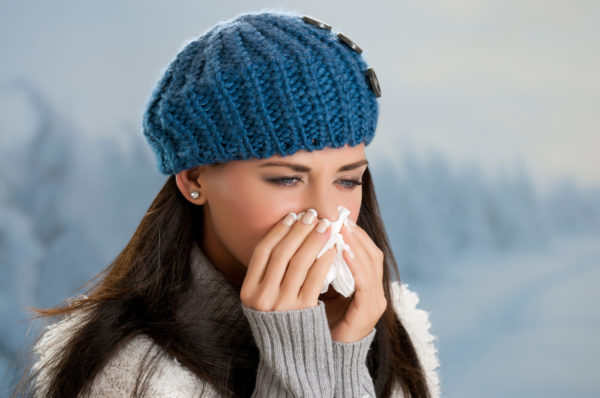 If you don't want to get caught red nosed, (see what I did there?) here are some tips to fend off those pesky sneezes. After all, a tissue box does not make a good winter accessory. 
Make Sure It's Actually Allergies
First, let's figure out if you're dealing with allergies or a cold. Since the symptoms can be similar, it's a good idea to take stock of the situation before rushing out for a remedy. Colds generally last for three to seven days, then they are gone. Allergies can last for weeks, and come with itchy eyes and a watery nose, whereas colds can include discolored mucus and chills. Allergies can be combated with medicine, whereas only the symptoms of colds can be treated, not the actual cold.
It Might Be Your Makeup
Once you have deduced that the problem is indeed allergies, you'll want to make sure you're not increasing the problem because of your makeup. Are seasonal allergies typical for you? Especially during the winter season, you might be making changes to your makeup routine for parties and special events. Most makeup allergies culminate in a rash or dermatitis of some sort, so if this happens, start removing products and testing them one by one. If the problem can't be narrowed down, return to your tried-and-true products.  
It's Time to Clean House
First things first, have your HVAC system cleaned and repaired or serviced. This will drastically reduce the number of airborne allergens in your home. You might also want to install an air purifier to cut down those sneezes. Keep the home free of excess dust by cleaning surfaces regularly. Also, make sure to avoid mold by fixing leaks and removing materials affected by previous water damage. 
Cleaning the bedding will also go a long way in removing the dander and dust from where you spend your face pressed into the pillows. Replacing down filled pillows and comforters with a synthetic fill will make a huge difference, as dander can accumulate there as well. Tidying closets can also create dust in the air, so be aware when you start your seasonal cleaning.
Being Proactive Is Key
With fall and winter come a plethora of outdoor events. With the heat of summer receding, weddings and sporting events are a given, as are more outdoor activities while the weather is nice. Being proactive and taking allergy medicine before sniffling-causing situations can make all the difference. If you know that you are going to be outside for any given amount of time, it's smart to pre-medicate or premeditate, as it were. 
Allergies are tough at any point in the year, but having them during a cold winter seems to just add insult to injury. Holidays with the sneezes and sniffles are absolutely no fun. If you plan ahead of time for your events, there's no reason you can't enjoy the season, sniffle-free.