Disclosure: This post may contain affiliate links, meaning we get a commission if you decide to make a purchase through our links, at no cost to you. Please read our disclosure for more info.
Last Updated on October 21, 2020 by
Love is timeless, but you still want your wedding ring to reflect the times.
Obviously, the goal is that decades down the line, you will be curled up with your partner looking back on your perfect day. But in the meantime, you do not want to miss out on the latest trends. After all, if you are getting married in 2019 or 2020, you want a ring that acknowledges the present day and there's no better way to do that than to opt for a contemporary trend.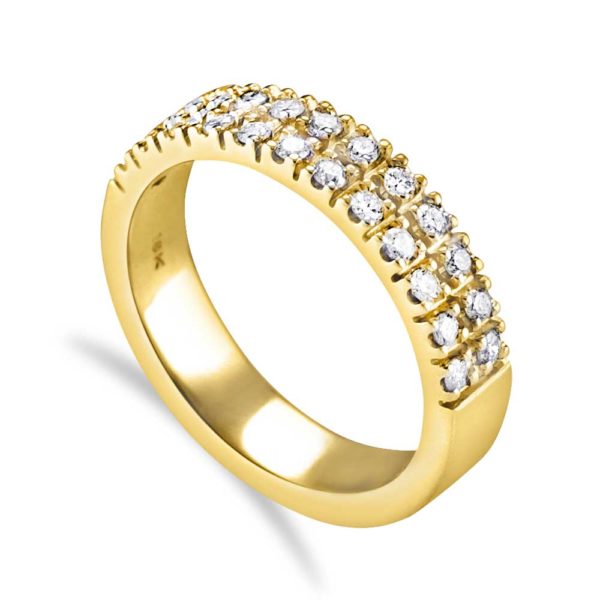 Paying attention to 2019 wedding trends does not mean you cannot have unique wedding bands. In fact, the most popular wedding rings for both men and women right now are styles that focus on self-expression and individuality.
If you're getting ready for your walk down the aisle, and you're looking for the perfect wedding rings for you and your partner, look no further than our ten favourite 2019 trends:
Stacked Rings
Everyday trends can be wedding trends as well!
It would be hard to say you've missed out on the stacked rings trend– everywhere you go, it seems like women of all ages are embracing this fun and unique style. With stacked rings, every layer can represent a different aspect of your personality, making it the perfect option for women who love to express themselves.
You can even use this trend for your wedding rings. After all, why choose just one ring when you can choose multiple? Besides the ring, you should also consider using a wedding video maker to create a wedding invitation video.
Birthstones Wedding Rings
Birthstone rings are the perfect option if you're wanting to design your own wedding band.
Many people are intrigued by the unique and personalized look of birthstone engagement rings— but they are still adamant that they want a traditional diamond for theirs. Including birthstones on your wedding band is the perfect compromise– you get to enjoy both styles, and more often than not, your birthstone will compliment your diamond engagement ring quite nicely.
Depending on the style you choose, you may be able to incorporate both your birthstone and your partner's, making this already unique trend feel all the more personal.
Hammered Finish Rings For Men
Any man would look handsome at the altar with these unique wedding bands. While men's wedding rings are often smooth and free from detail, a hammered finish adds texture and a sense of personality to any ring.
It's 2019. Let's stop pretending that men's rings have to be boring– with a hammered finish ring, the groom may very well be stealing the spotlight from his bride.
Rose Gold Wedding Bands
With rose gold wedding bands you can be pretty in pink on your wedding day– and every day after it.
It is not surprising at all to see how popular rose gold has become. Like silver and gold, rose gold is understated enough that it can go with any outfit, while still adding a unique pop of colour.
From cell phones to clothing, everything in 2019 is available in rose gold, so it makes sense that wedding rings are as well. If this is a trend you still haven't gotten tired of yet, chances are you won't regret taking your commitment to rose gold to the next level, and choosing it for your wedding band.
Minimalist Rings
Minimalism is a unique trend that proves that less really can be more.
Whether you want a tiny, tasteful gemstone or choose to go with just a simple band, minimalist rings are both friendly on the budget and unforgettably sleek. Although wedding bands are traditionally more simple than engagement rings, minimalism takes it one step farther by reducing the band to a thin and understated halo.
Triangle Cut Wedding Ring
Try not to cut yourself on these unique wedding bands!
A triangle cut is a little less conventional, but it is still a brilliant and beautiful option for anyone walking down the aisle. Instead of a simple but thick gold band, this geometric pattern immediately draws the eye in– it might even take the attention away from your engagement ring, which is a hard feat for a wedding band to accomplish!
Arrow Cut Men's Rings
Men deserve timeless, gorgeous rings, too. If you're hard at work designing your own wedding ring, consider going for custom wedding bands for him as well.
While designing your ring, consider the beautiful arrow cut style. Both men and women can enjoy this classy, trendy style, but if you ask us, this cut looks especially eye-popping when worn on men.
Black Diamond Wedding Rings
Who really needs a white wedding anyways?
Black diamonds are just for ski slopes. They are also dazzling gemstones that offer a unique twist on the traditional wedding ring. While black traditionally gets a bad reputation, it actually has associations with power, sophistication and passion, which are all things we could use a little more of in our lives.
Custom Men's Diamond Rings
You know what they say– diamonds are a man's best friend!
Well, they don't actually say that, but they really should after seeing all of the gorgeous options available when it comes to custom men's diamond rings. At one point in time, diamonds were strictly for brides, but all that is changing.
If you want something more subtle, you can choose to have diamonds embedded in the band, or you can go for something more extravagant and include a three-dimensional diamond in your ring– the choice is all yours!
Engravings Wedding Rings
Maybe comparing bands and gemstones isn't for you. Maybe you couldn't care less about the cut or carats or clarity of your ring. Maybe you just want to tie the knot with the love of your life, and nothing else truly matters.
Engravings are the perfect, customized option for any couple that doesn't know where to begin when it comes to their ring set. Write a sweet message for your partner, incorporate your vows into your design, or even just include each other's names. No matter what you choose, an engraving adds an intimate and personalized feel to your ring.
You can wear your engraved message loudly and proudly to the world, or, for something a little more private, you can keep the message on the inside of the ring, making it something for just you and your spouse to enjoy.
Image Source: finestgold.ca