Disclosure: This post may contain affiliate links, meaning we get a commission if you decide to make a purchase through our links, at no cost to you. Please read our disclosure for more info.
Last Updated on April 30, 2019 by
People in the United States are busier than ever, working an average of 47 hours a week, which means for many, there isn't much time to spend shopping or picking out an outfit. For the career focused individual, getting the most out of your clothes allows you more time to enjoy other aspects of your life.
A comfortable, well-made t-shirt can be accessorized and matched with other staple wardrobe pieces to create outfits that meet all your needs.
 

The T-shirt As Workwear
 With more and more American companies adapting casual work attire policies, employees may find themselves free to express greater individuality and personal style when getting dressed each morning. A fitted t-shirt in a smart fabric and neutral color, tucked into a pencil skirt or slacks, and worn underneath a blazer gives you a polished, professional look that commands respect. A bold piece of statement jewelry stands out against a plain t-shirt, and can become the showpiece of your entire outfit.
 

The T-shirt As Sportswear
 Hitting the gym, going to a spin class or taking a walk can feel great after a long workday, but sometimes it's hard to feel motivated. Spending less time in the locker room getting dressed for your workout helps make it a little easier. A breathable, lightweight cotton t-shirt can minimize post-workout body odor and keep you looking and feeling cool. Just throw on your sneakers and a pair of yoga pants, and you're ready to go from the desk to the treadmill.
 

The T-shirt As Casual Wear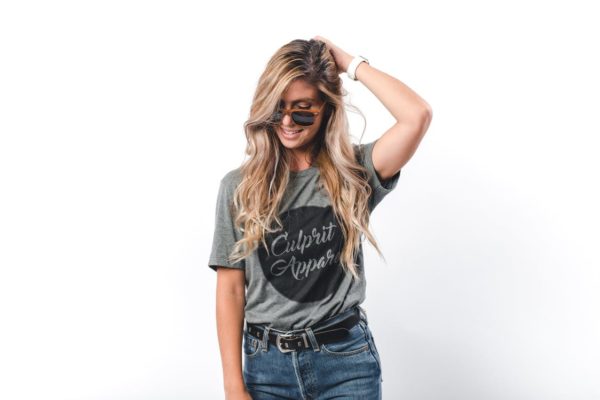 When most people think of a classic, casual look, jeans and a t-shirt come to mind. Pairing a t-shirt with a darker jean, heels and a few cute accessories can be a great, flirty look for an evening out. Throwing on a light sweater over your t-shirt, along with a comfortable pair of jeans and sneakers is an effortlessly chic look for your kid's Sunday morning soccer game.
 

Simplify Your Wardrobe, Simplify Your Life
 Just a few timeless, essential pieces in your closet will go a lot further than trendy, fast-fashion pieces that will rarely leave their hangers. If you're looking to build a capsule wardrobe or just to reduce clutter in your closet and your life, finding the perfect tee is a great place to start. The right t-shirt is a minimalist wardrobe staple, and makes it easy to look great everywhere you go.