Disclosure: This post may contain affiliate links, meaning we get a commission if you decide to make a purchase through our links, at no cost to you. Please read our disclosure for more info.
Last Updated on April 3, 2020 by
A late-night TV show with no audience? And it's coming to our living rooms from YouTube? What's going on?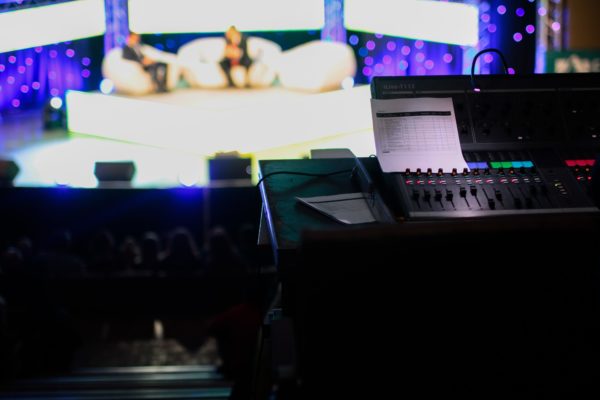 A staple of American TV viewing, the biggest late-night talk shows are watched by millions across the country. But they've been forced to change tactics thanks to coronavirus. 
Over a hundred shows, many of the TV talk shows, have been disrupted by the coronavirus outbreak in the US. As a result, they've had to depart from their usual format in front of a live studio audience. Of course, nobody wants to spread the virus, so alternate measures have had to be made.
Suspending Production
Some late-night TV shows have simply suspended production. 'The Late Show with Stephen Colbert' has joined Seth Meyer's 'Late Night' and 'The Tonight Show with Jimmy Fallon' in suspending production after Colbert made reference to the lack of an audience in Thursday's show. 
No Audiences
It was a brief transition from business-as-usual to the eventual suspension of production. At first, night show hosts had to get used to filming without a live audience.
Then, as the severity of the outbreak increased, the decision was taken to suspend production until the end of March at the earliest, although it feels unlikely that we'll see them returning in the traditional format any time soon. 
Surely the whole point of late-night TV shows is the interaction between the host and the audience though, right? It's been almost bizarre to see some of the most popular hosts in the country speaking to almost nobody, but the stars have managed to find a few ways around it. 
Social Distancing
With measures like social distancing introduced in a bid to halt the spread of the coronavirus, it seems obvious that shows filmed in front of audiences, like these late-night TV shows, would suspend production and go audience-free for the time being. Even game shows, such as ABC's 'Jeopardy!' and 'Wheel of Fortune', are getting in on the act. 
Along with many other celebrities, TV hosts have been showing themselves practicing social distancing by self-isolating at home. Stephen Colbert even addressed his audience from his bathtub and his firepit, showing that it's easy to keep yourself occupied at home. Trevor Noah jokingly quipped that his show has been renamed to 'The Daily Social Distancing Show'. 
Staying at Home
Undoubtedly, viewing our favorite night show hosts from their own homes isn't what we're accustomed to. But in some ways, it can work well and be just as effective as the regular format. 
Jimmy Fallon's current set-up is very much stripped-back and natural. His wife controls the camera while his children make appearances throughout the show. Likewise, Samantha Bee described herself as "just hanging out at my house".
As well as our favorites broadcasting from their homes, there's a return from Rosie O'Donnell, who has decided to breathe new life into her old talk show on the Broadway.com YouTube channel. She's aiming to raise money for The Actors Fund, and will welcome guests including Kristin Chenoweth, Morgan Freeman, and Gloria Estefan. She's not the only host making the most of YouTube, either.
TV Talk Shows Turn to YouTube
A number of late-night TV hosts have decided to turn to YouTube, utilizing the video-sharing platform to connect with audiences during the coronavirus pandemic. Night show hosts including Colbert, Fallon, Samantha Bee, Jimmy Kimmel, and Trevor Noah are on the site, trying to maintain some semblance of normality in these uncertain times. 
Can't interview your guests in person? That's not a problem, as Jimmy Fallon was able to speak to Lin-Manuel Miranda through a video call in the temporary segment 'The Tonight Show: At Home Edition'.
They've been getting plenty of views too. One of Fallon's videos has amassed over four million views, while videos by Colbert and Kimmel stand at over two and a half million and one million views respectively. It might not be prime-time TV as we're used to, but viewers are still definitely tuning in. 
Moving With The Times
Could the coronavirus outbreak, as odd as it sounds, breathe new life into the late-night talk show format?
In recent years, we've seen our consumption of television change at a rapid pace, with the rise of streaming and on-demand watching. Being able to access the likes of Colbert and Fallon on YouTube makes them more accessible; you can watch them on the go and whenever you like. 
Night show hosts are people that we're supposed to be able to relate to. When we see them sat at home video-calling their interviewees, it reminds us of ourselves Skyping friends and relatives while we're keeping indoors at the moment. 
If you're wondering how to watch The Morning Show and other popular TV shows at the moment, the options available to you have never been wider!
Late Night TV Shows
What does this all mean for the future of the late-night TV show? As it stands, there's no guarantee that we'll see our favorite hosts back on TV any time soon – just on YouTube and similar platforms.
While it's of course not the same as watching late-night TV shows in their usual format, it wouldn't be surprising to see hosts bringing both types of show together. Even if we see Fallon, Colbert, Kimmel and the rest back in front of their studio audiences again in a few month's time, perhaps they'll speak to us from home now and again, or give their studio a more homely appearance.
Watching Your Shows
As you can see, when it comes to watching TV talk shows, the hosts have managed to adapt well to the changes we've had to make as a result of the coronavirus outbreak. At the same time, they've managed to adapt their shows to the changing ways in which we consume TV. There might be a global pandemic, but in 2020, it will take a whole lot more to stop our late-night TV hosts from reaching us. 
If you're looking for more tips to occupy you while you're at home, check out the rest of the posts on our site!