Disclosure: This post may contain affiliate links, meaning we get a commission if you decide to make a purchase through our links, at no cost to you. Please read our disclosure for more info.
Last Updated on April 19, 2018 by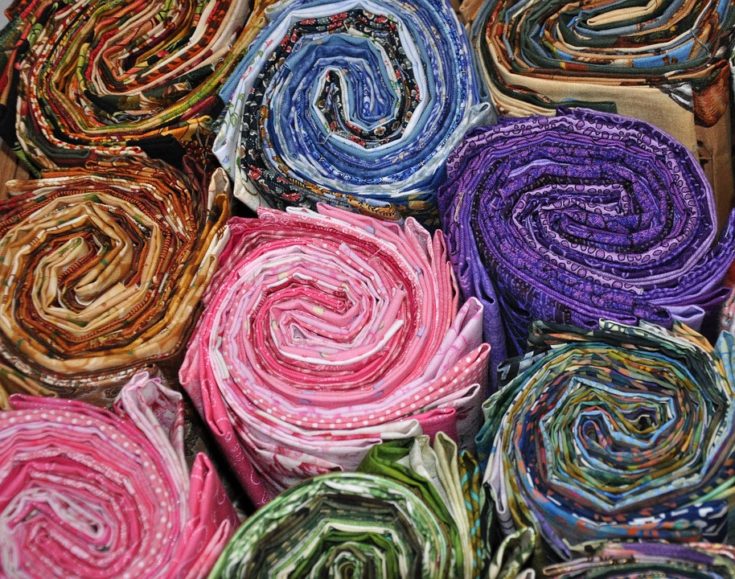 One thing is certain: you will not find designer dresses constructed of polyester double-knit fabric! Designers often will choose the fabric type for a dress according to the specific lines of a particular design. Each fabric choice brings a design to life—and some dresses are actually inspired by a fabric!
Cotton/Cotton Blends
Often used for summer designer dresses, cotton whisks sweat away and breathes easily, keeping you cool on a sunny day. Perfect for plus-size designer dresses, cotton is not restrictive, and can disguise the less than perfect figure. Cottons are also perfect for A-line and empire waistlines. Often, cotton will be blended with a synthetic to reduce wrinkling.
Cottons can shrink if not cared for properly, and some prefer to have their cotton designs dry cleaned. Washing in cold water will retain color on the most splashy and fun designs. Depending upon blend, etc., cotton can be difficult to iron.
Linen
Made from the fibers of the flax plant, linen is very popular for use in designer dresses. Linen is extremely comfortable and allows your body to breathe. Because it wrinkles so easily, some designers blend linen with cotton, wool or silk. Some manufacturers add a finish to their linen to minimize wrinkling. Appropriate for virtually any setting, linen is popular for business suits, resort wear and evening wear.
Silks
Available in a variety of weights, silk has myriad uses. Woven from the fibers of moth cocoons, silk is a protein fiber (like wool or human hair). Fine silks are noted for their lustrous sheen and their soft feel. Raw silk still retains sericin (the protective gum that holds cocoons together).
The most common (and least expensive) silk available today is Chinese Silk; because it is so fragile, Chinese Silk is not recommended for fitted garments. Charmeuse is usually what comes to mind for lingerie, blouses or scarves; charmeuse has a satiny front (right-side) and a flattened crepe back. The lightweight diaphanous silks (chiffons, etc.) are best suited for draped designs, as they don't hold structure well. Diaphanous silks are typically paired with Korean dresses.
Silk is great for both warm and cold weather. Its breathability makes silk perfect for a hot summer evening. But because silk can also hold your body heat in, it is also quite comfortable in colder weather.
Wools
Many winter collections are constructed of wool, either woven or knitted. Lightweight wools are appropriate for cooler weather, but best left in the cedar closet for warmer weather. With an array of weights, wool can be draped or used in more structured designs. Usually dry-cleaned, some wools can be machine or hand-washed.