In the world of men's fashion, it seems like lapel pins are staging a comeback.
The dapper decorative item has been appearing on blazers and suit jackets worn by models on the runways of Paris, New York, Milan, and London in recent years.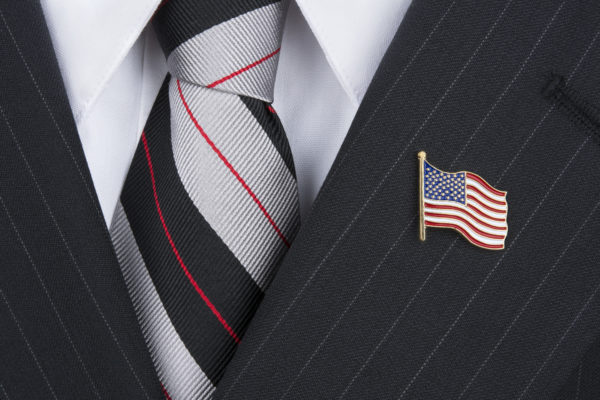 Once reserved for only the most formal of events, wearing a lapel pin is now a smart-casual staple, suitable for a wide range of contexts and events.
If you're wanting to smarten up and join the trend, read this essential guide on how to wear a lapel pin.
1. The Different Types of Lapel Pins Explained
First off, before asking "what do I do with a lapel pin?", it's worth noting that there are several different Lapel Pin options out there for you. Let's do a quick rundown of the types of lapel pins.
Boutonniere lapel pins: These are lapel pins that are usually made with real flowers and are typically worn only for formal occasions such as weddings.
Long-stem lapel pins: These are long, metallic lapel pins that are typically fastened with a stick pin and come in a wide variety of styles.
Mini-stem lapel pins and badges: These compact lapel pins don't actually have a pin, but rather attach via a rubber or magnetic clasp, making it easier for some people to wear.
Brooch lapel pins: These are typically larger and more dramatic, fastened with a hinge pin, and often characterized by 'vintage' touches such as copper chains.
2. How to Wear a Lapel Pin
If you're looking for tips on how to wear a lapel pin, remember that they should only be worn with suit jackets, sports jackets, and blazers.
The golden rule for lapel pins is, you guessed it, to wear them directly where the lapel buttonhole is.
If you didn't already know, the lapel is the folded-out part of the jacket where the buttons go.
The lapel buttonhole is typically at the top corner of the left lapel and is where lapel pins are designed to be worn.
The pin and fastener should be concealed behind the lapel, with only the icon/brooch/boutonniere visible.
3. How to Style Lapel Pins
Lapel pin uses are much more diverse than in the past and offer stylish men plenty of opportunities to experiment with their looks.
You can complement your lapel pin with other suit jacket items such as matching cufflinks, tie clips, or pocket squares.
You can use a lapel pin to enhance the color scheme of your outfit, or you can opt for a bright, unique lapel pin to make a small but powerful statement.
Remember, if you opt for a boutonniere, make sure to keep it fresh and don't buy it way before you're meant to wear it.
4. When to Wear Lapel Pins
If you're wondering when to wear a lapel pin, the answer is pretty much whenever you want.
Although lapel pins were once strictly formal attire, the rise of suave, smart casual fashion has meant that they are now considered a high-impact way to add gravitas to your everyday look.
Whether at work, a party or a gala, lapel pins can enhance your style.
Learn More
Now that you know how to wear a lapel pin, it's time to shop the look. Head to our extensive online store to find the perfect celebrity fashion pieces for you.