Disclosure: This post may contain affiliate links, meaning we get a commission if you decide to make a purchase through our links, at no cost to you. Please read our disclosure for more info.
Last Updated on March 16, 2022 by Steal the Style
The coronavirus pandemic made personal grooming services far more dangerous than ever before in history. For the first time, getting your hair done could be akin to eating off the ground in the subway after rush hour.
But you don't have to succumb to these germs if you're prepared for your hair salon service. Many salons are adopting special practices to help customers remain safe.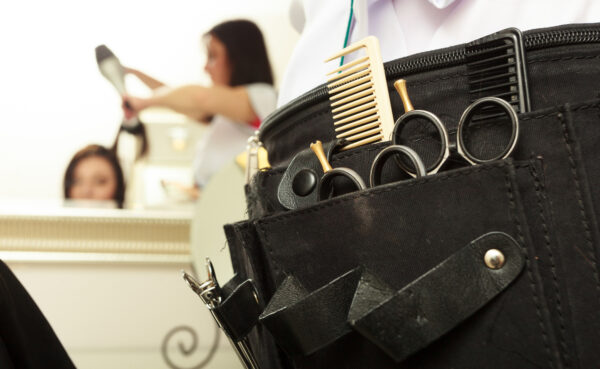 Here's what to look for during your hair salon service to make sure the business is taking your health seriously.
Face Mask Requirements
One of the most important things your stylist needs to say when you make your appointment is that face coverings are required. This is a CDC recommendation to keep the public safe.
Most businesses are following this advice and won't let customers in who don't wear a mask. If you talk to a stylist who says the mask is optional, this is a red flag. 
The stylist might not be taking the pandemic seriously and allowing customers who are infected to visit the salon. You can't see coronavirus, but you can breathe it in. 
Wearing a face covering is the only way to protect yourself and your stylist against pathogens in the air. 
No Walk-Ins
Many salons aren't allowing walk-ins during COVID. It's one of the easiest ways they can control the number of people in the salon at any given time.
By staggering appointments, hair stylists can keep the number of people in the salon below the maximum recommended by the CDC. If there are more than 6 people when you arrive for your appointment, this increases the risk of you or someone else spreading the disease. 
Ask for an appointment time that's at a less busy time of the day. This is a good way to reduce the spread and let your stylist maintain her preferences during her peak times. 
Some fashionable hair styles take time that could overlap with other people's appointments. By setting your appointment during a slow period, you give yourself time to get what you want without risking exposure to the virus. 
Spreading Out Clients
Another way a hair salon service can prevent coronavirus is by spreading out clients. Seating clients at least 6 feet apart keep contact at a minimum. 
Remain at a good physical distance from everyone in the salon who isn't providing you with a service. 
Sanitized Seating
Another option for higher-end salons is to sanitize the seating areas. These shared spaces might be a hotbed for germs. 
A strong housekeeping strategy keeps coronavirus at bay with the disinfecting of shared furniture at the end of every night. Only salons with ample staff will usually offer this option because of limited resources. 
Hair Salon Service in a Pandemic
There's really no such thing as a social distance haircut. You have to be within 6 feet of a stylist in order to get the hair salon service you need.
But this doesn't mean you have to be careless about contracting the virus. Take safety measures recommended by the CDC to ensure you won't be exposed while in the salon.
For more information and tips, visit our blog for updates.