Disclosure: This post may contain affiliate links, meaning we get a commission if you decide to make a purchase through our links, at no cost to you. Please read our disclosure for more info.
Last Updated on August 1, 2018 by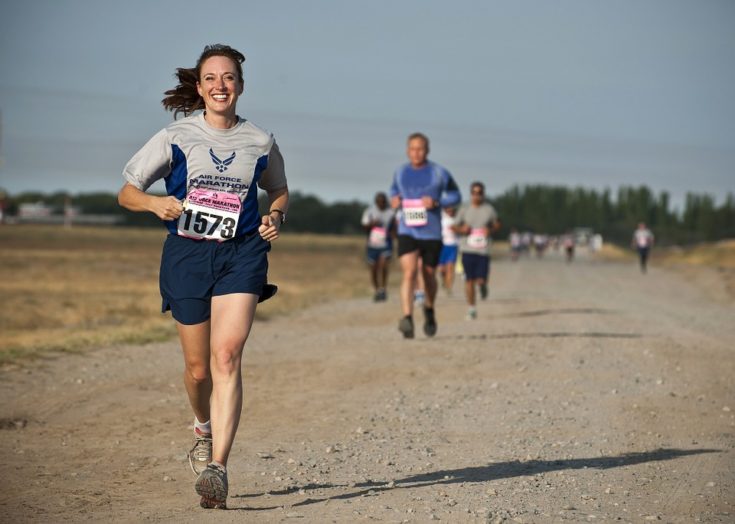 When training for a marathon, setting goals that are realistic and attainable is vital to your success. Knowing exactly what goals to set and how to reach them can be a difficult process. The journey to a successful marathon is one that results not only in having a fit body, but fit mind as well. To make your marathon goals a reality, here are some ways to have a winning workout each and every time.
[amazon_link asins='B017UT2MP4,1609612248′ template='CopyOf-ProductGrid' store='stealthestylewp-20′ marketplace='US' link_id='84ac382e-ea9e-11e6-b69d-73a6bbd86272′]
Listen to Your Inner Voice
For many runners, the biggest step comes in realizing that completing a marathon often comes down to overcoming the mental obstacles involved with pushing their bodies to the limit. During training as well as the race itself, listen to your inner voice in order to reach the finish line. When doubt begins to creep in, many marathoners use the "fake it until you make it" philosophy, using their inner voice for positive affirmations rather than negativity. As many of the best runners know, discarding doubt is the best way to get through the toughest parts of a training run or race, enabling them to compete at the highest levels.
Make a Commitment to Training
To make sure they can complete a marathon and meet their goals, most runners make a strong commitment to their training regimen. In addition to morning runs of several miles, some runners find themselves signing up for many smaller races in preparation for the marathon. By doing so, they feel as if their commitment to training is made stronger and becomes more focused the closer it comes to competing in the marathon. Whatever makes you feel accomplished and ready is good training. Remember to cross-train with other workouts so your whole body can benefit.
Never Run Away from a Challenge
While training for big races, many runners choose to take it easy during their training runs in order to keep themselves fresh and lessen the risk of injury. In many cases however the opposite is needed to reach the highest levels of success. For example, rather than taking a different route during a training run in order to avoid a challenging hill, choose to overcome the obstacle that stands in your way. By using this approach during training, you'll enter the marathon with a mindset that you can conquer anything ahead of you. As many marathoners can attest, this can be of great help at the halfway point of a race, where the body wants to quit but the mind says to continue. By knowing you've finished a hard run before in training, you'll be able to run through the pain and prove there is nothing you cannot overcome.
Prepare Your Body
For the majority of marathon runners, most of their training runs average about one hour. In order to ensure these runs are maximized to their potential, runners should eat plenty of carbohydrates that are slow-burning, such as vegetables and lean meats such as chicken that give plenty of energy for the run. Afterwards, it's often a good idea to eat larger carbohydrate meals that include fruits and whole grains to replenish glycogen. In addition to these foods, more and more runners have started using various types of supplements to help them gain strength and endurance and to help recover after workouts. One of the most popular is the ASEA Watter Supplement, which many runners feel gives them increased energy and concentration by optimizing cellular functions and maintaining a proper balance of signaling molecules.

By using these and other techniques, marathon runners can find themselves using better training regimens as well as achieving much lower race times. Whether it's using a supplement or some positive thinking, there's no doubt these options will result in a winning workout.