Disclosure: This post may contain affiliate links, meaning we get a commission if you decide to make a purchase through our links, at no cost to you. Please read our disclosure for more info.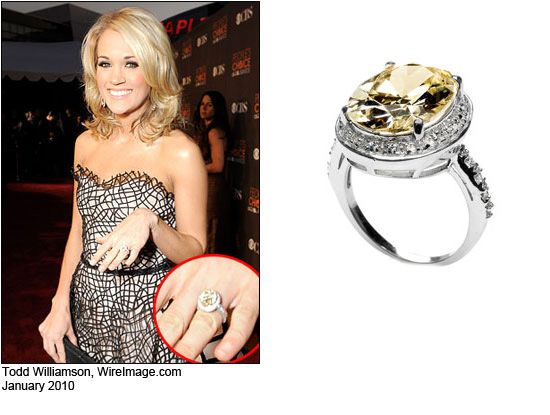 What better way to take part in a fashionable trend than with the rarest diamonds around? If you are looking for a new style to get into – this one is for you! Every girl always has "bling" on her mind. What better way to emanate bling then with fancy yellow, pink, blue or even chocolate diamonds?
[youtube]Q_ALBrHjl-E[/youtube]
Diamonds that are anything but the traditional standard colorless stones ones are becoming more and more popular.  Pink, yellow, and black diamonds are making their way to the fingers, hands, necks, and ears of some of the most influential people around.
Paris Hilton received the famous twenty-four carat yellow diamond ring from her now ex-fiancé Paris Latsis.  Another celebrity to receive a yellow diamond engagement ring is Carrie Underwood. Her diamond was a five-carat canary ring, with a slightly darker hue. The color tone went beautifully with Carrie's golden locks. However, Paris and Carrie are not the only ones to sport these magnificent yellow colored diamonds. The popularity of yellow colored diamonds on national stars has significantly increased in the last 10 years.
Though there seems to be a recent growth in their popularity, yellow colored diamond jewelry dates back quite a few years. Marilyn Monroe, for example, might be one of the most famous people who publically showed off her yellow diamonds.  She wore a twenty-four-carat yellow diamond, known as the Moon of Baroda, at the premier of Gentlemen Prefer Blondes. Hillary Clinton is another iconic individual who wore a yellow diamond to a major event. She donned the yellow stone at her husband's inauguration when he became governor as well as when he became President of the United States.
More recent celebrities who have been displaying yellow diamonds jewelry include Heidi Klum, Jennifer Lopez, and Rebecca Romijn. Heidi received a stunning ten-carat yellow diamond ring from Husband Seal at the time of their engagement.  Jennifer Lopez's husband Mark Anthony presented her with a stunning eight-carat yellow diamond ring after giving birth to her twins. Jennifer also wore a yellow diamond ring totaling thirty carats for the benefit "Raise your Right Hand Ring for Africa."  Rebecca Romijn has been spotted in the past wearing a light yellow oval diamond ring, with pave bands.
The yellow diamond trend is not reserved for engagement rings and rings alone.  Diane Lane and Freida Pinto boasted stunning yellow diamond jewelry on the red carpet of this year's Golden Globe Awards.  The former wore breathtaking platinum chandelier earrings studded with yellow and white diamonds designed by celebrity jeweler Neil Lane.  The actress also wore beautiful yellow and white diamond bracelets and a yellow and white diamond cocktail ring by the same designer.  A one hundred and forty-five carat yellow diamond necklace adorned Frieda Pinto's neck at the awards show. The Chopard yellow diamond necklace was combined with 1,705 micro pave diamonds!
Don't miss out on this fantastic fashion statement. The unique and alluring diamond color, combined with the beautiful settings of these jewelry pieces make them perfectly suitable for all famous trendsetters.